Building a business and a team in London
Pharmacy Awards
Building a business and a team in London
Fishers Chemist of South Norwood in South East London was the winner of the Team of the Year Award in the Independent Pharmacy Awards for 2016. The pharmacy has been owned for 50 years by Alan Kurtz. Douglas Simpson called on Alan to find out more about his life in pharmacy and how he has gone about developing his business and team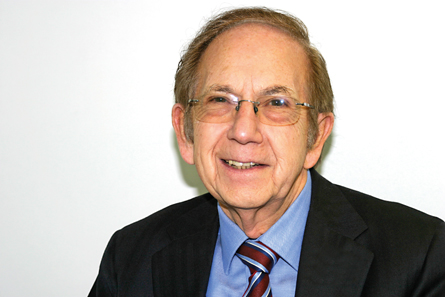 Alan's decision to become a pharmacist stemmed first from a love of chemistry. "I did chemistry experiments at home and even distilled some alcohol," he says.
He also wanted to go to university and to work for himself, and the only way he could see of doing that was to own his own pharmacy. He went to Nottingham school of pharmacy in 1958, graduating after three years, and then to Heppell's pharmacy in Marble Arch, central London, for his preregistration year. Heppells was part of the then Timothy Whites & Taylors chain.
Next came a few locum post followed by four years of management with Heppells, first in Buckingham Palace Road, then Kings Road, Chelsea.
Always on the look out for his own pharmacy, the quest was not easy. There were, Alan says, many on the market, but a lot had been set up in the depression in the 1930s and were not capable of being improved.
"Then a friend mentioned Fishers Chemist in South Norwood. It had been on the market for a couple of years but had not sold because the price was on the high side and it was in a poor state. The heating system in the dispensary was a gas-ring with a brick on the top."
Potential
But it clearly had lots of potential for improvement. It had not been refitted since being built in 1904.
Why was potential so important?
"I needed to borrow money, from the bank and my parents, to buy the business and I would have to pay that back."
He acquired Fishers Chemist in June 1966. To ease the transition, Alan spent the week before the handover working with Bernard Fisher and, for the week after, Bernard Fisher worked with Alan.
Alan's family came in handy in more ways than one. His father had been a cabinet maker and this skill proved invaluable in the refit that followed acquisition. Says Alan: "My father made all the fittings and fixtures in the garage at his home while I wielded the sandpaper and the paint brush, applying the finishing touches."
The staff on acquisition numbered four: Alan plus a dispenser (Frederick Mead) and two shop assistants. Frederick Mead had been wounded during the 1914-18 war and received the Military Medal. "I learnt a lot from Mr Mead, especially about counter-prescribing, where we continued a practice used by Mr Fisher.
"If a customer came in complaining of, say, 'nerves,' we wouldn't send them to the GP but ask a few questions and, where suitable, make up a mixture for them, using such ingredients as tincture of nux vomica and potassium bromide.
"We would say come back and see us in five days' time and let us know how you are feeling. Often they were feeling better. If not, a visit to the doctor might be advised. This counter prescribing was all entered in the prescription book and we were careful to ensure that what we were giving was not going to cause harm. We were aware of such problems as bromism."
Alan adapted the Bernard Fisher system and ended up with a number of formulae: "Fishers No 1 for coughs, Fishers No 2 for influenza, Fishers No 3 for the stomach mixture, and so on. This increased customer loyalty amazingly. And it also altered sales patterns. Every time someone came in for a medicine we would say: 'Would you like us to make something up.' One winter we hardly sold a single proprietary cough mixture."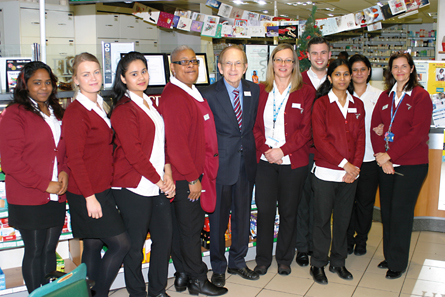 Land marks
There have been many land marks during Alan's 50 years at Fishers Chemist, and a few stand out. The first was a personal one. After three years of living above the shop, Alan and his wife Barbara were able to move to nearby Beckenham. Then, in 1969, a new shop front was installed, which modernised the appearance of the premises.
In 1974, a health centre opened across the road, housing eight doctors. "This was an enormous bit of luck." In 1980, an extension was built at the back of the pharmacy to accommodate a new dispensary and office. The shop was refitted at the same time.
Things were going really well, says Alan. But this was about to change.
"In 1982, on May 13, a staff member from the grocers next door came in to say that a 'chemist shop' was being built across the road, next door to the health centre. I had a battle on my hands to deal with the new opposition. We increased our opening hours and we slashed our prices. I was visiting various 'cash and carries' and also buying in bulk – 150 cases of nappies at a time, for example, and storing them in my home."
"As a result of slashing our prices and staying open longer we doubled our counter turnover in two years. I couldn't afford to take on staff so, after closing, I would stay on dispensing prescriptions from the health centre, placing stock orders and making preparation for staff to restock shelves the next day. I worked 100 hours a week. I had no choice. If the new pharmacy succeeded I would have had to close."
But the opposition did not thrive and, on May 7, 1985, Alan was able to take them over. "We would not have taken them over if it were not for the incredible support of our customers, the people we serve."
Having bought the business across the road, Alan moved his pharmacy there. He then thought everything would be fine. But in 1994, he learnt that all but two of the doctors from the health centre had decided to move to other premises about 1km away. This would have "decimated" his business.
But he was in luck.
"The doctors had a problem getting the premises they wanted and I suggested that they might like to talk to the owner of premises on the other side of my shop, who I knew wanted to sell. One practice bought that premises and rebuilt on the site. The other practice decided to stay in the health centre. Disaster was averted."
But more problems lay ahead. In 2007, Lloydspharmacy decided it was going to open a 100-hour pharmacy across the road. In the end, it was not able to open where it wanted and opened up further down the road instead a couple of years later.
Two sites
Fishers Chemist now operates from two sites, one on each side of the road. The original, older premises house staff rooms, training rooms, an office and stock rooms. There are also two consultation rooms. The newer premises, on the other side of the road, house the dispensary and further consultation rooms.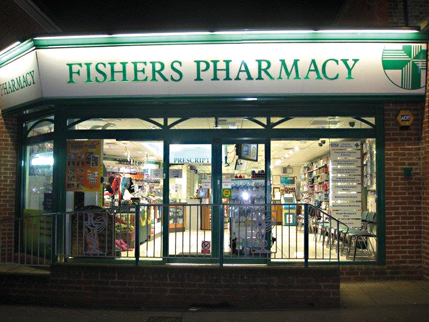 Today, the pharmacy offers a wide range of services, and has a travel clinic and a yellow fever vaccination centre. The pharmacists are accredited to provide a number of sexual health services, including the prescribing of oral contraceptives free to under-21s, and EHC. The pharmacists also provide a domiciliary visiting service accredited by Croydon CCG.
The Independent Pharmacy Award was for team of the year. How has Alan's team developed over the years?
"We started with four, and as we got busier we took on more people. There are now more than 30 members of staff, including six pharmacists. In 2004, I appointed one of the pharmacists, Ginny Turner-Flynn, as pharmacist manager to help in the running of the shop."
A large staff is needed because of the range of services provided and the opening hours: 8am to 10pm, Monday to Friday, 8am to 6pm on Saturdays and 11am to 1pm on Sundays.
"Good team-working is key," says Alan. The pharmacy has communications boards, meetings, newsletters and training sessions for staff. Once a year, Alan gives a 'state of the nation' PowerPoint presentation to all staff to show how the business is doing.
He adds: "We try to empower our people and encourage them to offer opinions and to help make decisions for the benefit of the organisation and our patients."
The pharmacy's dispensers meet briefly each morning to decide how their tasks will be distributed for the day. The counter supervisor organises sales staff on a daily basis, too. A 'Fishers Communication Channel'
on WhatsApp includes all staff phone numbers and provides a forum for ideas and suggestions and a vehicle for passing on information. All team members have a training and development plan, and formal training takes place at least four times a year.
Alan says: "We encourage people to train for whatever they want, within reason. So counter as well as dispensary staff can take blood pressure readings, pierce ears, and show young people how to use condoms (under the C-card scheme). People are encouraged to train from NVQ2 to NVQ3 and to ACT in the dispensary. We subscribe to a web-based CPD system and staff are given protected time each month to use it."
Fishers Chemist is accredited as a Healthy Living Pharmacy, has an Investors in People award, a Customer First Award, and an ISO 9001 service quality accreditation. Many members of staff are healthy living champions.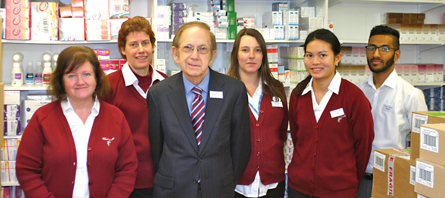 Awards
The pharmacy has won numerous awards. The first was in 1995, when it was recognised for NHS excellence in an award scheme operated through the local authority. This award was based on the views of patients.
Alan is particularly proud of the Customer First Award. This came after a two-day visit by an independent auditor and Fishers was the first pharmacy in Britain to receive this.
Alan is glad of the advice on improving the service to customers that comes from participation in the Customer First scheme. He says: "We want to provide the very best customer service. That is the driving force. What is important is the people we serve. We are nothing without them." Alan keeps a folder with all expressions of customer satisfaction and feedback.
Are there any plans to develop the pharmacy offer further?
"We are looking at new services all the time. Our latest service is an aesthetics clinic, which is quite innovative. And we are also very keen on promoting our status as a Healthy Living Pharmacy. We raise health issues each month. At the moment we are promoting HIV testing. Recently, we made cakes for a stall outside the pharmacy to raise awareness about breast cancer testing, and raised £521 for Cancer Research UK in the process. The problem with promoting services is, though, that we don't know which services, if any, will be continued after March 31."
How does he feel about the remuneration cuts?
"Very disappointed. I read that £3bn has been spent on reorganisation of the health service, with £1.4bn going on redundancy payments. Now they have decided to take £170m out of pharmacy. The doctors' surgeries are packed, A&E departments are overflowing, the NHS is bankrupt and up there on the hill are the cavalry, the pharmacists. We are the one group of people that can make a difference, and instead of helping us to do this they are making things very difficult. If there are too many pharmacies that is the fault of the government through its relaxation of the control of entry regulations."
How does he feel about the representative bodies in pharmacy? Does he think they are doing a good job in stating pharmacy's case.
"They are doing their best. But they have got their hands tied behind their backs."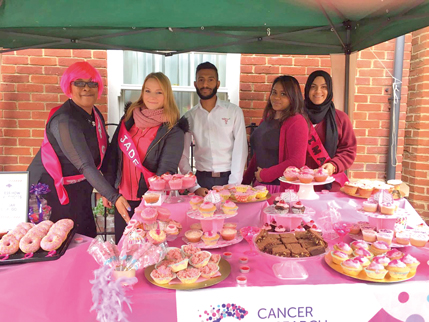 Representing
Alan has played his part in representing the profession – through the local pharmaceutical committee, since 1974, and the local branch of the Royal Pharmaceutical Society. While serving as press officer of the Croydon branch he can remember being told by one member that there had never been a time when there were not problems in pharmacy. "I have never forgotten that, and it is true. But also there has never been a time that independent community pharmacists haven't found some way of overcoming the problems, some way of surviving. We are very innovative."
How would he like to see community pharmacy develop in the future?
"I want to see greater coordination with GPs. The opportunities for pharmacists are greater than they have ever been, but for that potential to be realised the GP contract should be aligned with the pharmacy contract. And I would like to see each pharmacy with more than one pharmacist. We are able to do a large number of domiciliary visits because we have pharmacists who can look after the pharmacy while one of them is out. Ideally, there should be at least two pharmacists in each pharmacy."


Sponsored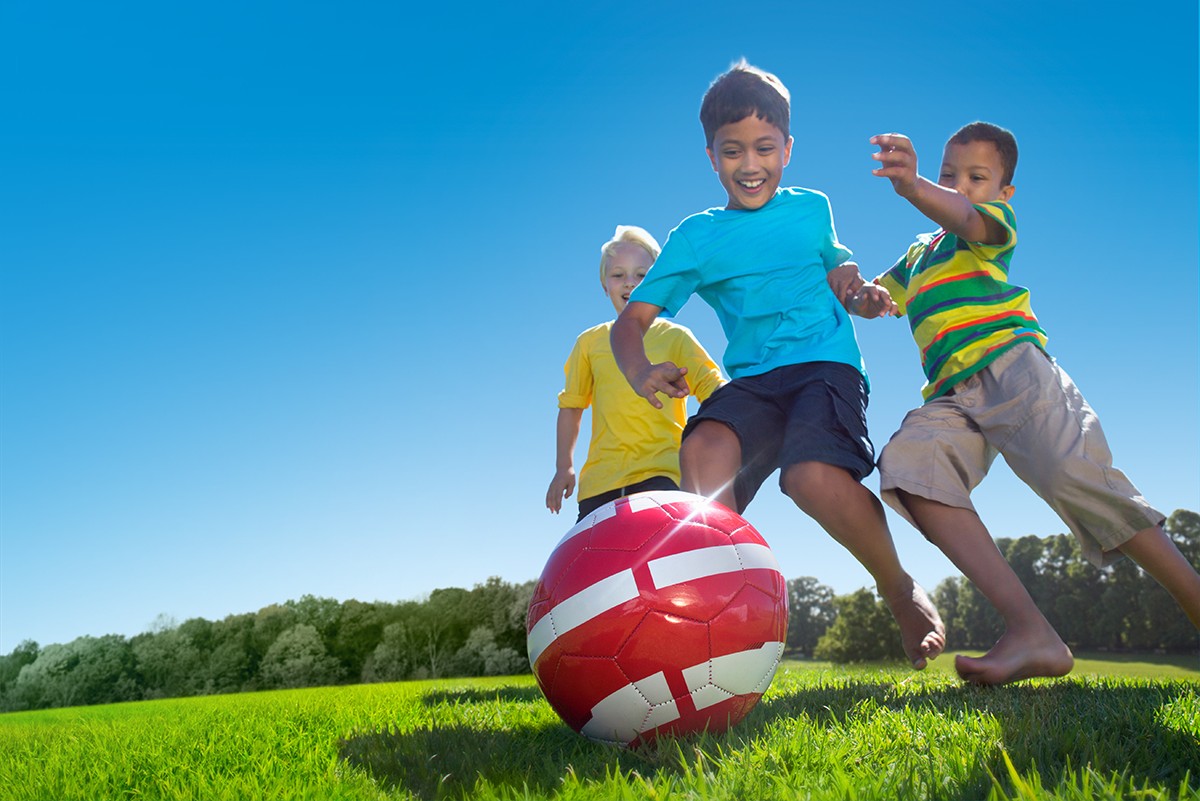 Sponsored education
Work through this new-style module to increase your confidence in reassuring parents of children with allergies, and know what advice and products to recommend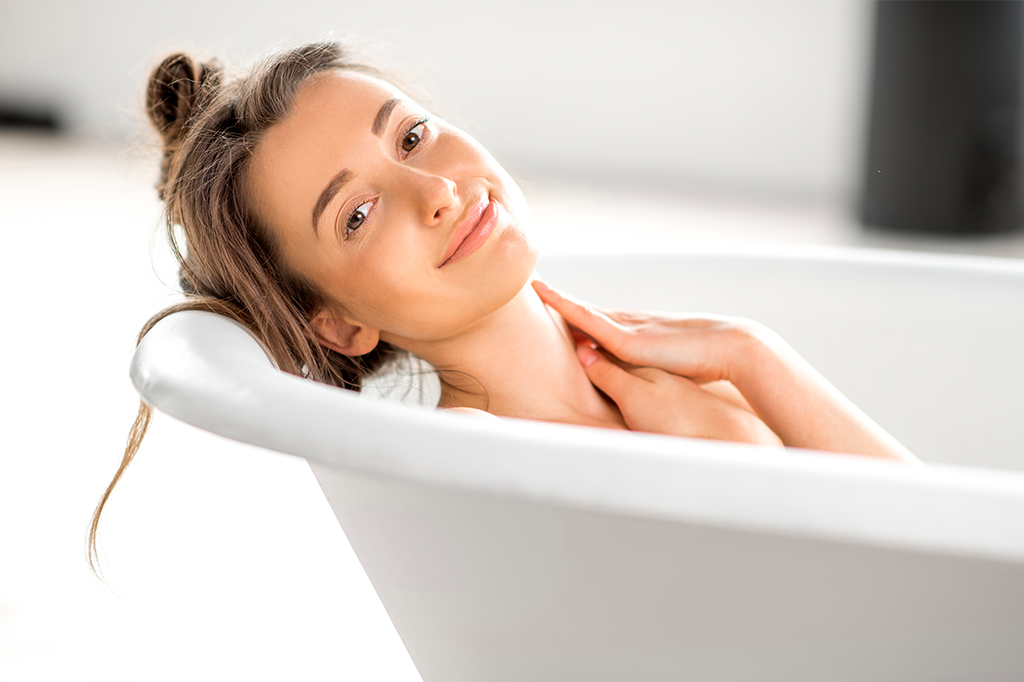 Sponsored education
Learn how a complete regime with appropriate self-care and product recommendations can help soothe very dry skin
Record my learning outcomes