The 2019 Independent Pharmacy Awards at the House of Commons celebrated the achievements of independent community pharmacists across the UK.

An audience of some of the most influential figures in the pharmacy profession, wider NHS and politics were at the event to see five awards handed to community pharmacies for their inspiring healthcare work…
Independent Pharmacist of the Year
Winner - Faheem Ahmed, Ahmeys Pharmacy, Oxford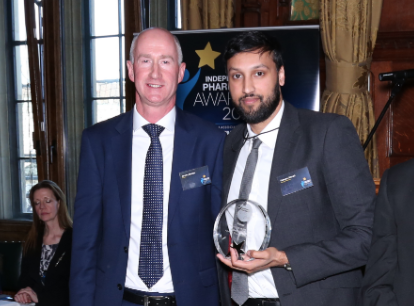 Faheem Ahmed picked up the Independent Pharmacist of the Year award after impressing judges.
He oversees two branches of Ahmeys Pharmacy, one in Oxford and one in Bicester, and last year completed his prescribing qualification before setting up a minor illness and aesthetic walk-in clinic.
His pharmacies offer a wide range of private and NHS services, including blood testing, sexually transmitted disease screening, a travel clinic and other services that cover a host of areas, from allergies and arthritis to substance abuse and musculoskeletal disorders.
The judges were highly impressed with the large scope of his services. Ahmeys Pharmacy not only focuses on physical health but psychological well-being, highlighted by a service that addresses women's mental health during pregnancy – the pharmacy refers patients to support groups and talking therapies.
Faheem is not just a very good community pharmacist. He is a very good, experienced cosmetic expert.
Having completed a master's degree in cosmetic dermatology, he runs an aesthetic service that includes Botox, dermal fillers, laser hair removal, vitamin and anti-ageing injections and microdermabrasion.
At a time when community pharmacists are struggling to make ends meet, Faheem has tapped into innovative revenue streams and at the same time, given his patients what they want.
That has seen Ahmeys Pharmacy generate extra turnover, which in turn has allowed it to provide high quality training for its staff.
Faheem also has an entrepreneurial flair. Not content with his work as a community pharmacist, he created a company called MEDLRN which provides training for all healthcare professionals through doctors, pharmacists and nurses.
His search for self-improvement has been relentless. As this forward-thinking community pharmacist said: "In order to improve healthcare, reduce health inequalities and develop a workforce for the future, healthcare professionals must up-skill and, as advanced clinicians, work at a more complex level."
One awards judge noted: "Faheem is very impressive, there's no doubt about that. It seems he's left no stone unturned. If a patient comes into his pharmacy asking for something, the chances are he will be able to provide it."
Another judge said: "He is not afraid to make money. After all, profit is not a dirty word and you've got to take your hat off to him. He seems to be doing very well with his private services as well as his NHS services.
"There are things a lot of community pharmacists can learn from him."
Highly Commended - Michelle Claridge, Aqua Pharmacy, Ipswich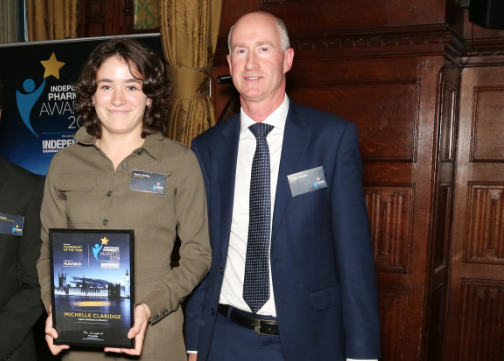 Michelle Claridge has taken patient care to new heights in Suffolk.
Overseeing a tightly-knit team, she energises and motivates everyone who works for her at Aqua Pharmacy to deliver the highest standards in healthcare.
Two staff members completed medicines counter assistants courses and another one was working towards achieving that. There is a buzz about the pharmacy under Michelle's supervision.
They dispense a decent number of items each month, with a 50% per cent growth on last year, and offer a range of services including emergency hormonal contraception, chlamydia screening and treatment, smoking cessation, needle exchange, supervised consumption, Lipotrim, NHS health checks, hair loss, hearing tests, contraception, mole screening, flu, travel and health vaccinations such as MenB, HPV and shingles.
"I think she runs a really good, solid pharmacy," one judge remarked. "She's a very good candidate for the award because she covers most areas and her patients clearly value the services she provides."
Michelle hires out a treatment room to other healthcare professionals including armed service medics, osteopaths, physiotherapists and aesthetic practitioners.
However, it is her work that caught the eye of the judges. Despite government funding cuts, she has invested in her pharmacy this year, giving it increased broadband connectivity, an automated prescription collection point which allows her patients to pick up their prescriptions seven days a week and an online private GP consultation service.
Michelle also worked with a local charity and councillor to install a defibrillator machine and expanded her vaccination service to local schools.
"She lives and breathes that pharmacy," another judge said. "You can imagine it would be great to work for her."
Her inspiration is not confined to the walls of Aqua Pharmacy. She has been a successful campaigner, promoting the case for funded atrial fibrillation detection and referral.
She also led a Health Education England-funded project on behalf of Suffolk, Norfolk, Cambridgeshire and Peterborough local pharmaceutical committees to develop pre-registration pharmacist tutor training.
She has worked tirelessly to improve the health of her local community and has engaged with county councils to increase the number of services commissioned from pharmacy.
In fact, Michelle has long advocated for better recognition of community pharmacy at local and national level in an attempt to ensure that all pharmacies are adequately funded and supported.
And her achievements have not gone unnoticed. Aqua Pharmacy has attracted MPs and local councillors who have been keen to see for themselves what it is that makes the pharmacy tick.
The Independent Pharmacist of the Year awards were presented by Jeremy Meader, managing director of Numark.

Independent Pharmacy Innovation Award
Winner - Shaheen Bhatia, P&S Chemist, East London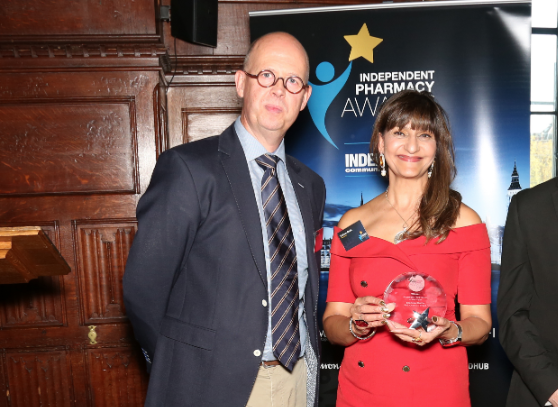 Shaheen Bhatia has improved the lives of her local community through a combination of leadership and innovation.
When she was approached by health commissioners in Redbridge to create a pharmacy-led buprenorphine (Buvidal) pilot to treat opioid dependence, she jumped at the chance.
To prepare, Shaheen studied previous pilots of the service in the US and Australia, completed her training to administer subcutaneous injections, helped create a patient-specific direction, carried out risk assessments, observed a private clinic providing the service and ensured her locums were fully trained.
Shaheen was also a key member of the Buvidal Working Group, a multi-disciplinary team consisting of psychiatrist's, nurses, operational managers and local authority commissioners.
"I am very proud that I helped create a new clinical enhanced service to expand the pharmacist's role in opiate treatment," she said.
"I feel this service will become the cornerstone and the future of supervised opiate therapy services from pharmacies."
Shaheen believes the service would greatly benefit prison inmates who tend to relapse and overdose after their release and her pilot, which was well received by patients, helped them remove the stigma of being seen as an addict.
"For me, this is going to be a real game-changer," one judge said. "This is really unique. It's a different service. I can see, if it actually get commissioned across the whole country, can save the NHS a lot of money, can reduce harm and can improve, in the long-run, a lot of people coming off opiates. I think it's a superb service."
There was agreement among the judges that the service can be replicated across the country.
"She has got the whole protocol there. This can be replicated through NHS England and every pharmacy that provides substance misuse," the judge added.
Another judge said: "Wow, this is ground-breaking. I'd heard of Buvidal but I never realised it was being used in the community setting."
The impact of the service has been dramatic as Shaheen explained.
"One young client I treated who was homeless, after being injected, has felt the burden of being seen as a drug addict has been lifted and has already started volunteering for work.
"He felt the stigma of 'picking up' was stopping him from getting work and therefore not improving his circumstances. He said he is getting his self-esteem back."

Highly commended - Ade Williams, Bedminster Pharmacy, Bristol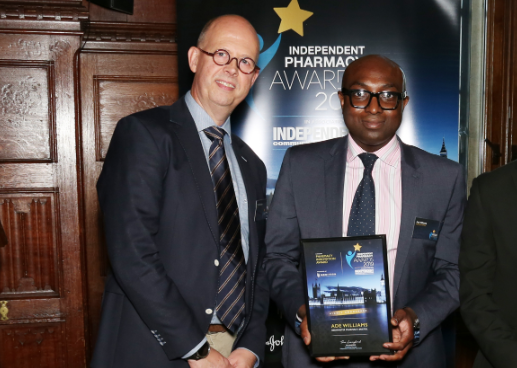 Embedded in an area of Bristol that has had its share of adverse health outcomes and social deprivation, the Bedminster Pharmacy team, led by Ade Williams, have had to think outside the box.
Going far beyond dispensing, Ade and his staff have worked tirelessly to drive awareness of public health, early detection and, crucially, how people can avoid ill-health in the first place.
That has seen Ade talking as the resident pharmacist on BBC Radio Bristol about health issues and providing listeners with information and advice on a range of topics.
He has also worked alongside Dr Hilary Jones and Dr Elie Freeman as an ambassador for Pancreatic Cancer Action and even appeared as a cartoon version of himself in one awareness campaign in an attempt to increase awareness of the disease.
His cross-cultural engagement work has seen him design multi-language awareness initiatives on cancer, cardiovascular disease and diabetes that have benefitted the local community of south Bristol.
"Ade is probably one of the most resourceful community pharmacists there is," one judge said.
"He is always thinking of ways to get messages on health and prevention of disease out to the local community."
His other successful campaigns include the annual men's health initiative known as the Bemmy Challenge, in which he partners with local radio stations, tattoo parlours,wiut barbers, bowel cancer awareness campaigns and self-care week, a heart age campaign which was praised for its videos and digital content and a joint project with ERIC, the children's bowel and bladder charity.
Ade has also been a member of the Royal Pharmaceutical Society's polypharmacy development steering group and was named a Public Health England 'pharmacy vaccination hero' for his work in promoting uptake of the vaccine.
He worked with a local school to support the Sugar Smart UK initiative and period poverty campaigns and his work is regularly covered by the local press.
The charities he has worked with include Meningitis Now, Bowel Cancer UK, ERIC and the Migraine Trust and he has provided the Royal Pharmaceutical Society and PSNC with case studies of his work to highlight the difference community pharmacy teams can make. As Ade once said: "There are still some common misconceptions about the role of the community pharmacist and the level of training we receive. But we are highly trusted and well trained.
"A community pharmacist always has a holistic approach, looking at causative factors and what lifestyle changes can help enhance any medicines that may be needed for treatment."
The Pharmacy Innovation awards were presented by Timon Dejonghe, general manager of Meditech.

Key Staff Member
Winner - Milton Kent Nuako Owusu, Fieldway Pharmacy, south London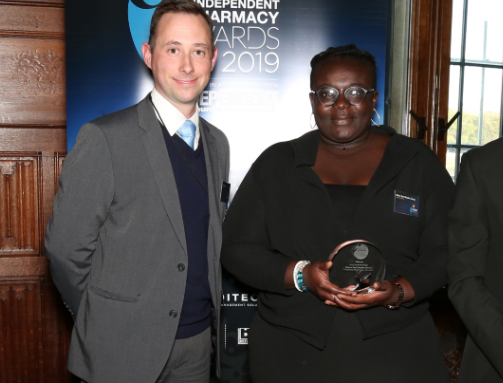 Milton Kent Nuako Owusu's enthusiasm for patient care is infectious and inspiring.
She has done so much to ensure Fieldway Pharmacy in New Addington meets the health needs of its local community, driving awareness of services such as flu vaccinations, medicines use reviews, new medicine service – services that have been extremely important to diabetics,
asthmatics and COPD sufferers, pregnant women, housebound people and their carers.
Milton is tireless. She also helped create the pharmacy's healthy living corner which focuses on various chronic ailments and encourages people to make incremental lifestyle changes and signed Fieldway up to the Alzheimer's Society's cupcake day where the pharmacy raised £747
to help dementia research.
"I like to be busy with my time, whether that's helping customers, being part of my team, floating between the counter and dispensing or on my own to see to health promotions and getting Fieldway Pharmacy's name out to the public by utilising health campaigns," Milton said.
Her self-belief also caught the eye of the awards judges, with one insisting: "She has a great deal of confidence in herself and that transmits itself to the rest of the team."
Milton provides diabetics with information so they know where to go for sugar-free medicines and how parents can know which is the right
toothpaste for their kids.
She has also helped Fieldway meet the community pharmacy assurance framework and information governance criteria, increase the number of services they provide and ensure a healthy number of prescriptions are dispensed.
Such has been her work ethic that it seems she has been at the pharmacy for much longer than two and-a-half years.
"I go to the pharmacy 30 minutes earlier than the opening time to make sure I clean and set up the place for an effective and clear day. My team and customers are priority to me," said Milton, who has also developed and cultivated strong relationships with the local GPs and other healthcare professionals.
"Many times, I have gone out of my way to deliver medication to patients after work as I don't want them to be without medicines."
Highly commended - Sandra Faria Pestana, Croasdales Pharmacy, Suffolk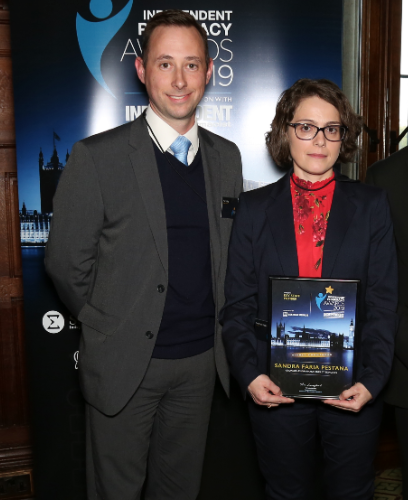 It might be an underestimation to describe Sandra Faria Pestana as a key staff member. She is integral to Croasdales Pharmacy in Bury St Edmunds.
One incident illustrates how important she is, not only to the pharmacy but to the patients who come to it for help, especially vulnerable patients.
One day, a distressed patient who had missed three consecutive doses came in to the pharmacy demanding his daily methadone. After Sandra told him the pharmacy could not give it to him, he became verbally aggressive towards her and the rest of the team.
Keeping her composure, she explained the reasons why the pharmacy was unable to dispense his methadone and the risks involved if they did.
She explained that she was concerned for his well-being and understood his frustration, at which point he left. A few days later, Sandra had another talk with him and referred him back to the local rehabilitation centre.
Her professional, caring approach worked and he now comes into the pharmacy a much calmer person while Croasdales' relationship with the rehabilitation centre has gone from strength to strength.
Sandra personable touch has gone a long way to helping the pharmacy improve the way it provides services to people. And the knock-on effect has been noticeable.
They have improved patients' medicines adherence and individual's lifestyles through health and well-being initiatives, reduced unnecessary visits to the GP and increased the number of customers.
"Sandra is great with her patients, a really reassuring presence in the pharmacy," one judge noted.
Thanks to her assistance, the pharmacy has been able to provide a plethora of vital services including prescription collection, medicines use reviews, the new medicine service, emergency hormonal contraception, diabetes testing, travel health, chlamydia test and treat, cholesterol and blood pressure testing, supervised consumption, smoking cessation and food intolerance.
"I always try to do the very best that I can because my employer is paying for a service and every customer deserves the best I can deliver," Sandra said.
"I think of others before I think of myself. I believe that everyone who works for the community is part of a team and it's important for us all to support each other and step up to do what needs doing to get the job done.
"In my job, I work directly with customers and their problems. What I like is solving problems and helping people. Sometimes it takes a lot of effort on my part but it is very rewarding when the customer appreciates the service."
The Key Staff Member awards were presented by Paul Insley, head of Bestway Med Hub.

Health Champion
Winner - Tracey Kyle, New Life Pharmacy, Glasgow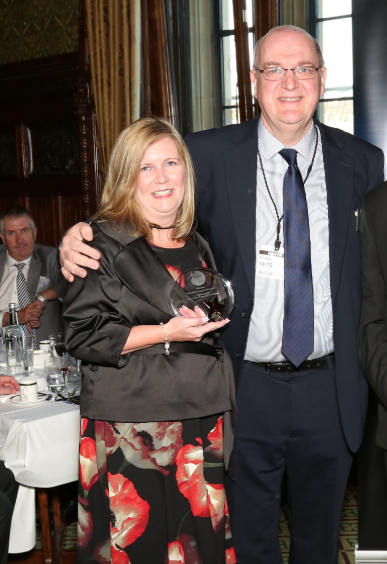 Tracey Kyle has worked in community pharmacy for 16 years and has a great interest in public health.
Working as a dispenser, she has raised awareness of healthy living in an affluent part of Glasgow, promoting services such as blood pressure and vitamin D testing, diabetes and cholesterol checks, type 2 diabetes screening and cardiovascular risk assessment.
She advises her patients on alcohol consumption, healthy eating and exercise and although the pharmacy's smoking cessation service has reduced in recent years, primarily because of an increase in vaping, Tracey still takes carbon monoxide readings and captures the data on the patient record.
She has also immersed herself in the local community, ensuring elderly people understand their medicines and the many young professionals in the area have health checks.
Her attentiveness is illustrated by the way she carefully handles a blind lady who comes in each month to be weighed. Tracey also deals with the queries anxious patients have about minor ailments.
"She's got a cool head on her shoulders," one judge said. "Nothing seems to fluster her and, importantly, her patients can rely on her."
Tracey is also involved in a signposting service for carers who have become ill looking after someone else.
New Life Pharmacy is not close to any GP surgeries, so Tracey helps promote its prescription collection and delivery service which has helped the pharmacy to increase its dispensing of prescriptions to several thousand a month.
The pharmacy provides health checks, smoking cessation, emergency hormonal contraception, vitamin D testing, travel clinic, palliative care, baby weighing and podiatry and Tracey plays a central role.
"You really do get the sense that if you had a health-related query, Tracey would have the answer," another judge remarked. "You know you are in good hands with her."
A look the following patient testimonial provides a sense of just how important she is to the team.
'I was worried and phoned the pharmacy because I felt unwell and thought my blood pressure was up. I spoke to Tracey who told me to come to the pharmacy and she would take my blood pressure.
When I arrived I was quite distressed. After taking my blood pressure, she said it was a bit high and after a second reading, she spoke to the pharmacist.
Tracey then phoned the surgery to see if the doctor could see me that day. I went to the surgery and the doctor changed my tablets because my pressure was too high. Thanks very much to Tracey.'
Highly commended - Milton Kent Nuako Owusu, Fieldway Pharmacy, south London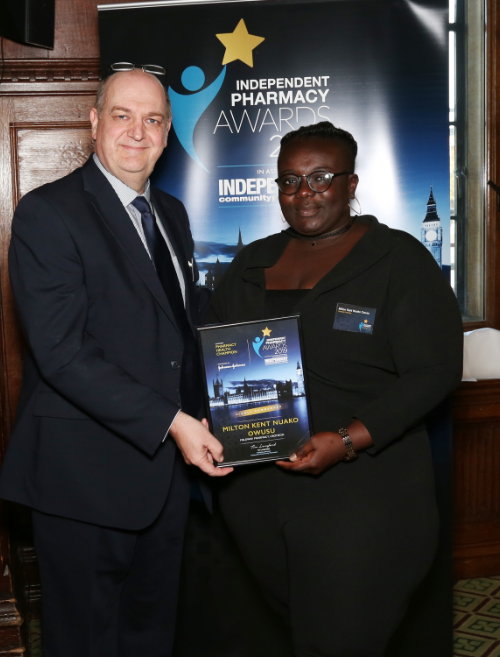 The health of the local population of New Addington is in very good hands. Milton Kent Nuako Owusu, who works at Fieldway Pharmacy, often goes the extra mile to ensure important health messages are clearly communicated.
She has helped many people change their behaviour and lead healthy lives, something which chimes with the NHS' focus on prevention.
Milton has effectively highlighted the availability of services at Fieldway such as flu vaccinations, medicines use reviews and the new medicine service and, in the process, increased the number of diabetics, asthmatics and COPD sufferers, pregnant women, house-bound people and their carers who access those services.
She created a healthy living corner in the pharmacy which highlights chronic ailments and encourages people to make incremental lifestyle changes and signed Fieldway up to the Alzheimer's cupcake day which saw her raise £747 to help dementia research.
The healthy living corner provides patients with important information, for instance informing diabetics where to go for sugar-free medicines and telling parents how to choose the right
toothpaste for their kids. There is also strong support for people with mental health issues.
"Milton is very influential in the pharmacy. You get the sense that she has so much energy in trying to change people's lives for the better and the rest of her team feed off her energy," one awards judge said.
Milton has built strong relationships with the local GPs and other health professionals and is on first-name terms with her patients. She can be found in the pharmacy half and hour before opening to ensure everything is in place.
"I think Milton is inspirational," another judge remarked. "She really enjoys what she does and her patients benefit from that."
She has projected the right health messages on Fieldway's Facebook and Instagram pages and that has engaged the interest of patients who know exactly where to go for any health concerns.
Yet it is her work with younger people that has stood out. She has played an instrumental role in her pharmacy's sexual health clinic which rolls out services such as emergency contraception, chlamydia testing and treatment and c-card registration and distribution.
Not one for standing still, she also completed her healthy living and dispensing assistant training.
Milton has been at the pharmacy for two and-a-half years but has been a fast learner. When it comes to pharmacy health champions, she is a natural.
The Pharmacy Health Champion awards were presented by David Dean, national field sales manager at Johnson & Johnson.
Pharmacy Team
Winner - McCartan's Pharmacy, Newry, Northern Ireland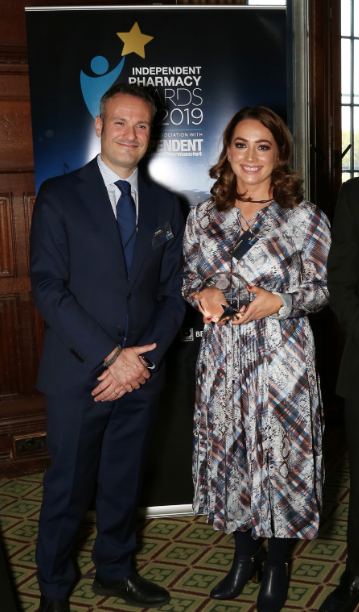 McCartan's Pharmacy is known for its public health initiatives as well as its first-class health services down the years.
Under the leadership of owner Gemma McCartan, the pharmacy's team of 20 staff dispenses a large number of prescriptions - something Gemma concedes would not have been possible without the hard work of everyone in her team – but it is their work out in the community that caught the judges' attention.
This year they are running a scheme for children from the age of eight with type 1 diabetes to help them understand their condition and manage it effectively.
The pharmacy's autism scheme has also been very successful, with parents reporting it has not only offered them respite but allowed their children to take responsibility for their own health.
"When I look at how good a pharmacy is, I ask 'is there continuous improvement?' This pharmacy is clearly continuously improving," one judge said.
Each team member brings a different skillset to the pharmacy. One shop front staff member is great on social media and is able to effectively promote new cosmetic products in the pharmacy, the shop and dispensary manager is integral to the team and the dispensary assistants provide huge support for the pharmacists.
"They're all constantly willing to improve and learn and two are taking their NVQ which I'm delighted to be able to support them through," Gemma said.
The pharmacy has been in business for just five years but to the casual observer, it seems the team has worked together for many more years. The local area contains a mix of affluent and socially deprived populations and has retail stores, community centres, industrial parks and housing developments.
"This means we have a huge OTC trade, so all our staff are fully trained on this and we aim to have two to three pharmacists on at all times," Gemma reveals.
The pharmacy also recently launched a travel clinic which Gemma insists "has kicked off over the last six months" and has a strong focus on additional services such as a food intolerance test.
Not that Gemma and her team are content to stand still. Five years after opening, they have doubled the size of the pharmacy and have their eyes on further progression.
"We would like to look at other patient group directions and see what opportunities are available and what would benefit our customers," she said.
"We are all very involved in the local community and are always looking to better ourselves. But we couldn't have got to where we are without a team that works well and a team that is happy."

Highly commended - KBT Pharmacy, Kirkcudbright, Scotland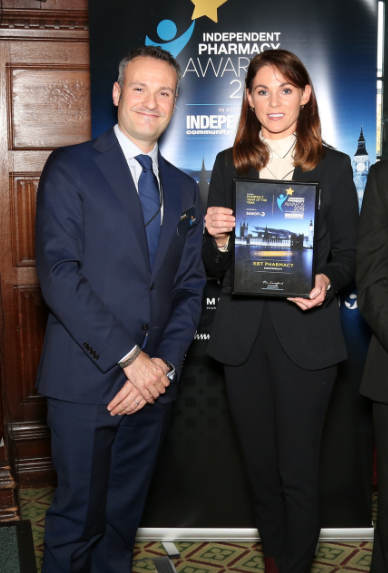 KBT Pharmacy, based in rural south-west Scotland, is integral to the healthcare of its local community.
Led by Soenaid Anderson, the team contains two pharmacists, including one independent prescriber, an NVQ-qualified technician and a trainee NVQ technician.
The team offers a minor ailments service as well as many advanced services such as locally arranged patient group directives including treatment for urinary infections, skin infections, emergency contraceptive, stoma, blood glucose and blood pressure monitoring, sexual health and disease treatment, smoking cessation and the chronic medication service (CMS).
Soenaid and her team also campaigned successfully to have flash glucose monitoring (FGM), in the form of Freestyle Libre, to be available on the NHS for type 1 diabetics locally and nationally.
That was only achieved after the pharmacy extensively lobbied the Scottish parliament and local government and visited local schools. Soenaid's daughter Maisie was diagnosed with type 1 diabetes in 2014.
"It's absolutely fantastic, the work they've done with diabetes," one judge observed. "Getting the flash glucose monitoring on the NHS really jumped out for me. It's brilliant."
There is a high incidence of type 1 diabetes within KBT Pharmacy's local community but the hard work of Soenaid and her team has started to reap its rewards. They also provided the Scottish government with financial data and analysis to support the provision of FGM on the NHS.
"We felt it was a campaign we had to undertake. The cost of FGM is comparable to finger-pricking but is life-changing for type 1 diabetics and allows for better control and better health outcomes," Soenaid said.
KBT Pharmacy was also the pilot pharmacy locally for the implementation of the CMS. But their work with FGM is hard to ignore. It has made Soenaid very proud.
"Our successful campaign for FGM to be available to all type one diabetics locally and nationally was over and above any expectations from an independent pharmacy team," she said.
She paid tribute to the "effort and dedication" her team showed in meeting FGM manufacturers and learning about the technology to better the lives of the type 1 diabetics.
"We have become a point of contact and support for diabetic patients, both type 1 and 2, in our community and a team healthcare professionals can refer to when they need support," she said.
"It has widened our professional scope and had a positive impact on our local GPs and nurses as we can share the workload and take pride in our role as the diabetic hub of the community where we receive many referrals for support."
The Pharmacy Team of the Year awards were presented by Fabio Mazzotta, head of North & South Europe, Sanofi Consumer HealthCare.