Interviews
Interview: Martin Sawer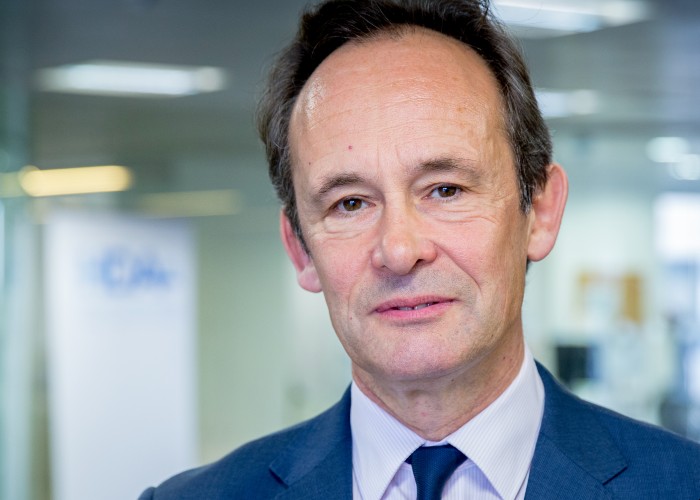 Wholesalers are returning to normal after the fuel crisis but workforce shortages could become a big problem, says Martin Sawer. The Healthcare Distribution Association executive director talks to Neil Trainis…


"It's important that we have a good relationship with pharmacy communities," Martin Sawer says calmly but pointedly as he weighs up reports that some wholesalers have not been communicating with pharmacists when they have been unable to deliver medicines.
The executive director of the Healthcare Distribution Association, the trade association for pharmaceutical wholesalers, says he is sorry that some deliveries have recently not made it to their destinations, heaping pressure on pharmacy teams as they try to ensure patients get their medicines, but he insists there have been genuine reasons for that.
"I think (our members have) been put under stress, certainly with the drivers' shortages for deliveries of fuel into our warehouses but mainly the fact that our drivers and vans have to rely on forecourt diesel fuel for about 50 per cent of the transport fleet," he says in small room at the HDA's Bloomsbury Square's headquarters.
"It was access to the fuel, like the general population had problems with that which was the key problem on making sure deliveries were made. Of course, some of that is not known until the last minute.
"We were aware of extra colleagues driving around at night trying to find fuel from forecourts, driving around at the weekend trying to find fuel for the following Monday and this was really severe for about two weeks and particularly around the M25, north, northwest London and in Kent. So yes, we're very sorry that some deliveries were unable to be made. Sometimes it was one a day instead of two in those areas."
Martin insists the HDA had "urgent talks" with the government and sent daily situation reports to the health secretary during the fuel crisis in September and October. He reveals the Department of Health and Social Care "bent over backwards to try and help us" but the Department for Transport scuppered any hope that assistance was on its way.
"(The DHSC) put in an application for us to be a priority access sector for fuel. That was turned down by the Department for Transport and the business department and they in fact allowed no sector to have priority, even doctors, nurses, care workers, all the emergency services colleagues who didn't have access to bunkered fuel had the same problem.
"It was very, very difficult two or three weeks ago and we really complained at the highest level but we were turned down by this government and for that I'm sorry."
He advises pharmacies that have problems with deliveries to "take it up with their local MP because a lot of the wholesale sector bent over backwards just to try and maintain supplies." It was a difficult time for wholesalers and pharmacies but, reassuringly from a pharmacy perspective, Martin suggests "it's coming back to normal."
Yet despite the inevitable struggles of the fuel crisis, a lack of communication is unforgiveable. Martin agrees.
"On the communication to pharmacies, I hope those are isolated incidents because I know our members work very hard to try to alert community pharmacies to problems with deliveries.
"That doesn't always work in the heat of the moment. I know there are ways for technology to be applied when doing that and I'm confident our members are working hard in that area.
"Yes, (a lack of communication with pharmacies), I think it's unacceptable. I think if there's particular instances where that is repeatedly happening, then we'd happily help the pharmacy take it up because there should be good communication.
"We raise this regularly with our members. I know PSNC provide some reports to us when this happens and we try and report that to the individual wholesaler and they aim to sort that out with the individual pharmacy or group of pharmacies. So I agree, it's unacceptable, certainly if it happens more than once.
"I think that in the heat of the moment, some of these things will fall off just because we can't always get to the pharmacy when we want to for whatever reason. There could be an accident or there could be a hold-up where it's difficult to communicate."
He assures independent pharmacies his members will keep the communication lines open if there are problems with deliveries and insists the HDA constantly raises the issue with its members and pharmacy organisations.
"We can assure your readers that we raise it at a regular meeting we have with all the pharmacy bodies. We've now set up a HDA pharmacy group which has been really useful in the last 18 months. We set this up during the Covid crisis originally and we've kept it going to maintain communication links and communication to pharmacies is often on the agenda and our members attend those meetings, so it's certainly up there as an important issue and our members are working hard to improve things."
Some have been quick to defend the performance of wholesalers, especially during the pandemic. Numark managing director Jeremy Meader told the Pharmacy Show that the service wholesalers have delivered has been "remarkable."
"If you go back 18 months, it's been pretty remarkable given the Covid crisis with the pressures on the supply chain and that applies to everybody in the supply chain," Martin says.
"Manufacturers are managing to produce so much more very quickly, or get hold of so much more very quickly. Wholesalers have been able to distribute it very, very quickly when patients were coming into the pharmacies and asking for three months prescriptions because that was the lockdown criteria.
"Pharmacy was on the frontline and we were working as hard as we could with our colleagues on the frontline. There was a lot of local co-operation which went way beyond the call and I think that's been replicated probably too many times. People are getting quite tired in all parts of the supply chain and especially on the frontline. You can see the exhaustion, whether it's doctors or pharmacists. We're there to try and ensure patients get the medicines they need."

Wholesalers hit by labour shortages
The fuel crisis has not been the only plight for wholesalers. Martin says they have also been hit by a labour shortage which has seen warehouse employees driving forklifts and office staff working in the warehouse.
"We are short of labour, never mind drivers. We are short of labour, the whole system is under strain but echoing Numark's words, it's pretty remarkable. There's been warnings to the pharmacy sector that some medicines may have to be prioritised because of the fuel problem or because of labour shortages. But the system is still working."
He says the HDA's plea to the government to help wholesalers deal with workforce shortages has so far fallen on deaf ears. Alarmingly, he admits the HDA is concerned about the "long-term structure of supply in the next 12 months or so unless things change or improve."
"We've made strong representations to government to give us a bit of a break whether it's to be more flexible on the apprenticeship scheme, be more flexible on access to drivers and nothing yet has happened. There have been no initiatives from government that have been of any benefit.
"Our members are doing a remarkable job but I don't want them to get exhausted and the cracks start to show because every company has a business continuity plan. The whole network works because it can deal with crises and issues but if it goes on for years and years, that's not a good thing."
The question that springs to mind at this point is how bad is the workforce shortage in pharmaceutical wholesaling? Martin insists his members have "very strong, robust" business continuity plans and he rejects "crisis" as a word to describe the situation because, as he puts it simply, "we've coped." So far at least.
"That is the way to do business when you're dealing with medicines, you have plan Bs and never mind plan B, you've got plan C and D. So we're not always on plan A and that's why Numark said it's remarkable.
"Office staff are sometimes in the warehouse, warehouse staff are sometimes driving and it's ok at the moment. Pharmacies have access to hopefully more than one wholesaler so they can have some flexibility and that's the in-built flexibility and resilience of the system. What I'm saying is we need something more structural to improve economically with the labour force.
"We need to understand that these workers are doing critical work, can they be given some priorities? They are providing a universal service for then NHS. Can the NHS understand that and classify or account for our workforce in a different way because since Covid, the whole of the UK economy has gone much more online, so you can imagine there's much more demand for warehouse staff and forklift truck drivers.
"All those skilled jobs in that type of role are highly sought after and there's a lot of competition for the workforce. So that is the structural challenge for this government."
Martin says the government has not refused to help HDA members address workforce issues, they just haven't responded. He is, however, buoyed by number 10's appointment of former Tesco CEO Sir David Lewis as its supply chain adviser, albeit until the end of the year.
"We're pleased about that because that shows they recognise the issue and we know that medicines are up there as one of the priority areas to be looked at. We should watch this space," Martin says.
He refuses to comment on the modus operandi of individual wholesalers, some of whom have implemented quotas and low-spend surcharges. "I can't comment on individual companies' pricing arrangements," he says, advising pharmacists to "take it up with PSNC."
There promises to be much to occupy the HDA, PSNC and pharmacists in the next few months.


Record my learning outcomes