See the bigger picture through the smoke
Clinical
See the bigger picture through the smoke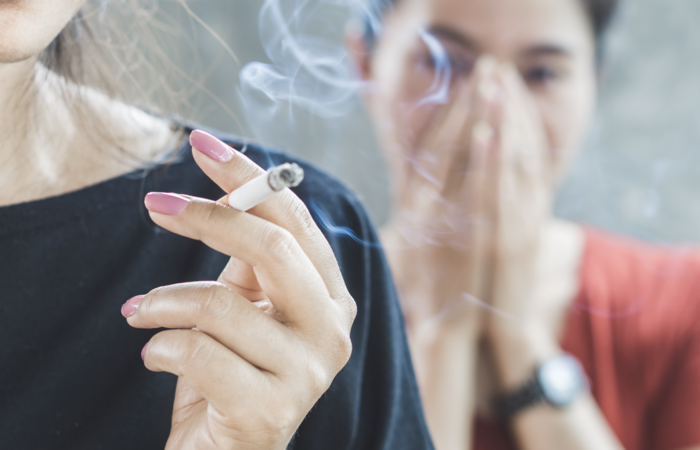 Pharmacy teams need to understand the issues around, not only smoking, but vaping, NRT and heated tobacco, writes Victoria Goldman…
Last month, the Office for National Statistics (ONS) published estimates for the current rates of smoking and vaping in the UK. In 2022, 12.9 per cent of UK adults smoked cigarettes; this is the lowest proportion of current smokers since records began in 2011.
The 25 to 34 age group made up the highest proportion of current smokers in the UK (16.3 per cent), with those aged 65 years and over being the lowest (8.3 per cent). The ONS found that in the UK in 2022, 14.6 per cent of men smoked compared with 11.2 per cent of women.
While most smokers want to quit, many find it difficult to do this permanently. The National Centre for Smoking Cessation and Training (NCSCT) says that advising smokers on the relative risks of nicotine-containing products compared to smoked tobacco is an integral part of supporting them to quit.
It's also important that smokers have access to a wide choice of smoking cessation products, along with appropriate behavioural support.
Nicotine patches and gum are safe, effective and widely used methods to help people quit, but increasing numbers of smokers are switching to e-cigarettes instead. In the ONS Opinions and Lifestyle Survey (OPN), 8.7 per cent of adults said they currently use an e-cigarette daily or occasionally.
Daily or occasional e-cigarette usage was highest among people aged 16 to 24 years (this has increased to 15.5 per cent in 2022 from 11.1 percent in 2021), especially among young women.
"Financial stress and poor mental health are on the rise, which we know makes it harder for smokers to quit," says Deborah Arnott, chief executive of Action on Smoking and Health (ASH).
"The growth in vaping among adult smokers and ex-smokers is welcome, as vaping is a very successful aid to quitting smoking. However, like the ASH surveys the ONS data show a worrying growth in vaping among teens and young adults."
Vaping versus smoking
An ASH survey published in August 2023 revealed that four in ten British smokers (39 per cent) still believe that vaping is as – or more – risky than smoking cigarettes.
In addition, 1.8 million smokers (27 per cent) have never tried vaping even though it can be an effective quitting aid, and 2.9 million smokers have tried vaping but stopped.
The negative perception of e-cigarettes is partly driven by concerns over youth vaping, and environmental concerns about the use of disposable 'throwaway' vaping products. Research shows that vaping isn't more harmful than smoking, nor is it more addictive, although it isn't risk-free, especially for people who have never smoked.
According to the Office for Health Improvement and Disparities (OHID) in September 2022, there is significantly lower exposure to harmful substances from vaping compared with smoking.
According to ASH, the most commonly used type of e-cigarette device remains a refillable tank system, used by 50 per cent of current vapers. E-cigarettes with replaceable cartridges were used by 17 per cent of vapers. Disposable vapes have become more popular in 2023, especially among young adults.
Vaping versus NRT
According to ASH, vaping combined with behavioural support is nearly twice as effective as medicinal nicotine replacement therapy (NRT). A Cochrane Review published in November 2022 found that people are more likely to stop smoking for at least six months using nicotine e-cigarettes than using NRT products, such as patches and gums.
Evidence also suggested that nicotine e-cigarettes led to higher quit rates than e-cigarettes without nicotine, or no stop smoking interventions.
"People have been safely using NRT for decades," says Professor Jamie Hartmann-Boyce, associate professor of evidence-based policy and practice at Oxford's Nuffield Department of Primary Care Health Sciences. "We know a lot less about nicotine e-cigarettes (but we do know they are considerably less harmful than smoking). Some people may be more willing to try vaping than NRT."
Smokers may prefer to try e-cigarettes over NRT because these are more similar to traditional cigarettes, behaviourally and psychosocially. "Often it has to do with personal preference and previous experience," says Professor Hartmann-Boyce.
"A lot of people have tried to quit with NRT in the past and not been successful – this isn't because NRT doesn't work, it's because it's really hard to quit smoking. Those people in particular might want to try something else, like an e-cigarette. Tobacco addiction is complex, and for a lot of people, behavioural and psychosocial elements play a big role."
It's important that pharmacy customers are able to buy regulated e-cigarettes to suit their budget. "Clinicians in the UK can prescribe NRT – they can't prescribe nicotine e-cigarettes at present," says Professor Hartmann-Boyce.
"This could have financial implications for patients, and also might affect the amount of support someone who is making a quit attempt will get. Stop smoking services are very used to supporting people who are using NRT. Some services are more familiar than others in supporting people who are using e-cigarettes to quit smoking."
Once smokers have switched from traditional cigarettes to e-cigarettes, the next step would be to quit vaping as well.
"We know that compared to people using NRT, people using nicotine e-cigarettes to quit smoking tend to use them for a longer period of time," says Professor Hartmann-Boyce.
"This could be viewed as a good or a bad thing – using e-cigarettes for longer might make them less likely to relapse to smoking, but it also may have cost and health implications."
Heated tobacco
According to research published in The Lancet in July 2021, the use of heated tobacco in European countries is more common among younger people, and in current and former smokers.
However, its use is still fairly limited in the UK. Heated tobacco products are designed to heat tobacco without burning it or producing smoke. These are marketed as a less-harmful alternative to traditional cigarettes.
Switching from cigarettes to heated tobacco may reduce exposure to harmless chemicals, but the health risks aren't yet well-understood.
"Unlike e-cigarettes, there is no strong evidence that suggests heated tobacco products can help people quit smoking," says Professor Jamie Hartmann-Boyce. "The safety of heated tobacco products is also less well-established."