On the colds, flu and Covid frontline
Clinical
On the colds, flu and Covid frontline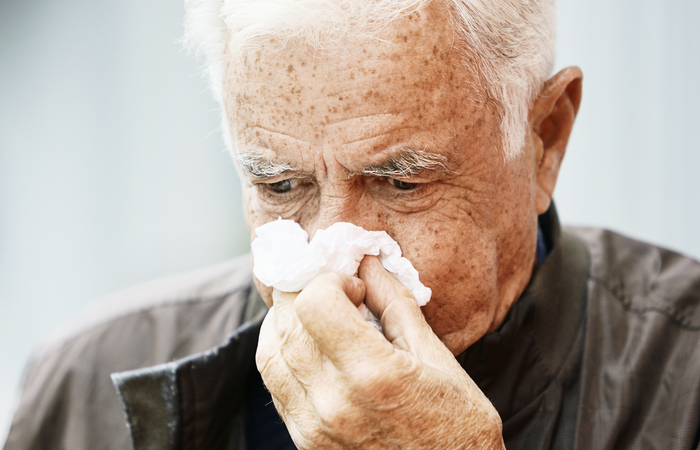 Since the pandemic, pharmacy has been at the forefront when it comes to offering OTC products and support to help manage and prevent colds, flu and Covid, reports Kathy Oxtoby …
This year's preparations to roll out the winter vaccination programme got off to a confusing start, with community pharmacy teams being told twice that the start date had changed. First it was September 1, then October 7 and finally it was September 11.
Due to the risks presented to vulnerable patients by the new BA.2.86 Covid variant, the Department of Health and Social Care asked the NHS to bring the vaccination programme forward and to accelerate delivery to vaccinate those eligible more quickly. The government would like as many individuals as possible to have been vaccinated by the end of October.
"The short notice changes to the start date for the winter vaccination programme have created confusion for pharmacy teams trying to make plans, and for the public. The government must plan ahead more decisively next year to avoid such uncertainty,' says chair of RPS in England Ms Tase Oputu.
" Pharmacy teams will now revert to their usual routine of beginning jabs in September and remain an essential element in the government's vaccination plans."
"This was a shambolic start to the vaccination programme and caused unnecessary work and hassle for pharmacy owners and their teams," says Alastair Buxton, director of NHS services at Community Pharmacy England.
"We have been clear to ministers and officials that this sort of policy to-ing and fro-ing must not be repeated."
Meanwhile, he says pharmacy teams across the country "will once again show their adaptability and do their utmost to help with this newly accelerated vaccination campaign".
Lindsey Fairbrother, owner and superintendent pharmacist at Goodlife Pharmacy, Hatton, highlighted another pharmacy concern - that vaccination appointments booked at pharmacies locally, will not show up on the national vaccination booking system.
As a result, vaccine stocks delivered may not cover demand, "resulting in lots of problems, cancellations and stress", she says.
The effective roll out of the vaccinations programme will be crucial given that not only are cases of the new covid variant on the rise, but winter 2023/4 could also be a bumper year for the flu virus if cases in Australia are any indication.
The flu season may be one of Australia's largest flu seasons on record - although the flu strains do not seem to be any more severe than in other years. 1
"The data coming through, particularly from Australia does give some cause for concern," says Ade Williams, lead pharmacist at Bedminster Pharmacy , Bristol. "We could see a lot of flu and Covid this winter, so the importance of vaccinations cannot be overemphasised."
As well as providing vaccinations, pharmacists can "educate customers about the importance of vaccines, address any concerns they may have and can offer information on potential side effects and post vaccination care", says Heidi Wright, English practice and policy lead at the Royal Pharmaceutical Society ( RPS ).
Ms Wright says pharmacists can stock a range of OTC medicines for common ailments, such as painkillers, cough and cold remedies, and antihistamines. "Pharmacists can speak with customers about dosage instructions, potential side effects, and any cautions to take if using other medicines," she says.
With Covid, a key feature of the new strain is headache , so pharmacists can support patients with products containing paracetamol to provide symptomatic relief, says Ms Fairbrother.
While pharmacy has always been in demand with helping people manage their colds and flu, since the Covid-19 pandemic, the sector has been "at the forefront" when it comes to offering OTC products and support, says Lila Thakerar, superintendent pharmacist at Shaftesbury Pharmacy , Harrow.
Ms Thakerar says pharmacists need to ensure their staff are adequately trained to give this advice and support. She stresses that when giving advice to patients not to recommend antibiotics for minor viral infections. "Patients need to understand that every time they have a cough, cold, or runny nose this doesn't mean they need antibiotics ," she says.
Customers can be confused as to which products are best suited to treat their symptoms – and pharmacy teams can provide expert advice in a convenient setting.
While there is a huge - and ever growing - range of cold and flu remedies that pharmacy can stock, Ms Thakerar recommends having brand leaders on their shelves "that patients have faith in". She says "fast sellers" include Actifed, Sudafed, and Day and Night Nurse.
Benylin has diversified its range, offering products for dry and chesty coughs and in a non-drowsy formula. Some brands, like Robitussin, offer sugar free versions of their cough medicines suitable for people with diabetes, says Ms Thakerar.
Saline sprays are "very popular, drug free and give instant relief for a blocked-up nose", says Ms Thakerar. Sterimar has a range of saline sprays - including a product for babies - which are available in different pack sizes, she says.
When choosing what winter remedies to stock it is important to "look at the evidence, including symptom control and relief", says Mr Williams.
Rather than convincing patients to try a brand, pharmacists need to be aware that many patients will want to purchase a product that they prefer and trust, he says. And he recommends pharmacists update their knowledge about cold and flu brands so they can best advise patients.
The winter months are also an opportunity for pharmacists to talk to patients about how to prevent colds and flu by giving advice on how to boost their general health and wellbeing – and at the same time boost sales of other products, such as vitamins and minerals.
Pharmacy teams can advise on self-care - for instance, "drinking plenty of fluids and keeping warm", says Ms Fairbrother. They can also spot red flag symptoms such as breathlessness, referring the patient if necessary, she says.
Given the cost of living crisis and resulting health inequalities, Mr Williams says it's time for pharmacy "to be champions of their community's patients - not just helping them to address issues, but being proactive about people's health and wellbeing, and making sure everybody has what they need to get through winter safely."
And pharmacy teams need to consider their own health too, says Ms Fairbrother. "There are more pharmacists doing vaccinations this year who haven't before, and they won't realise how busy and stressful it can be. So they've got to make sure they look after themselves."
Pharmacy owners can use guidance and resources that Community Pharmacy England has prepared for these autumn/winter NHS services, particularly for the flu vaccination service: org.uk/flu
Reference
Bowen A, Blyth C. (2023) Australia faces another record flu season – and children's vaccination rates are alarming. The Guardian. https://www.theguardian.com/australia-news/2023/jun/26/australia-2023-flu-season-kids-kindy-influenza-children