Withering's Wisdom - Savings time
Views
Withering's Wisdom - Savings time
Our correspondent wonders who at the DHSC is doing the maths when it comes to balancing investment against efficiency savings.
While the Department of Health and Social Care's (DHSC) announcement of the increase in prescription charges is an annual event in the pharmacy calendar (up to £8.80 from April 1), what caught my eye was the blurb that accompanied the announcement. This propaganda is rarely included in any news report, but gives an interesting insight into the government's mindset.
The text reads: In the 2015 Spending Review, the government committed to support the Five Year Forward View with £10 billion investment in real terms by 2020 to 2021 to fund frontline NHS services. Alongside this, the government expects the NHS to deliver £22 billion of efficiency savings to secure the best value from NHS resources and Primary Care must play its part.
This year, therefore, we have increased the prescription charge by 20 pence from £8.60 to £8.80 for each medicine or appliance dispensed. To ensure that those with the greatest need, and who are not already exempt from the charge, are protected we have frozen the cost of the prescription prepayment certificates (PPC) for another year. Taken together, this means prescription charge income is expected to rise broadly in line with inflation.
Government mantra
Three years down the line and the government is still sticking to its mantra that £10bn investment will deliver £22bn of efficiency savings. I wish I could apply this sort of maths to my business! The DHSC
is simply aiming to maintain its current take on the prescription tax - prescription charge income is expected to rise broadly in line with inflation – so not much creative thinking here, but it got me wondering how much longer we will see an NHS free at the point of delivery.
Pressure, mainly from an ageing population, but also from a younger generation that seems to have forgotten, at times, how to look after themselves, is steadily pushing the NHS to the point where it cannot cope. Any student of demographics could have identified this as a potential problem decades ago.
Unfortunately the British political system is adversarial in nature and not structured to encourage our politicians to think long term. Five years is pretty much their event horizon, and all too often it is not until an element of infrastructure has reached crisis point that action is forced. The outcome is rarely well managed.
Recent examples are the welter of changes around pensions, the overhaul of welfare payments and moves to tackle the impending shortage of capacity in electricity generation. You might also want to throw in Andrew Lansley's 2013 NHS reforms, although the need for that was more questionable.
The reason I mention the NHS reforms is that last month The Times reported that NHS manager numbers have risen by a quarter in the five years since the reforms (which were intended to cut bureaucracy), and are now higher than before their implementation, outstripping the growth for doctors and nurses over the same period. 'More than 6,000 managers have been hired since April 2013 ... while pay-offs for managers have cost £2 billion, with at least £92 million given to staff who were quickly rehired', the article reported.
Money, money, money
It is no secret that the NHS has over 20,000 vacancies. GP recruitment is below target and nurses are leaving faster than they are joining. Brexit is only going to add to the staffing problems. Money can make a lot of these things better, but where is it going to come from? Will the next few years see the NHS pushed into doing the unthinkable? Will all patients be expected to make a contribution towards the cost of their medicines? Will GP practices be asked to collect an appointment fee before you can see a doctor? Will disruptive NHS reorganisations become a thing of the past?
One other DHSC announcement that I found finished with the words: 'Pharmacies will continue to be trusted partners in a world class NHS'. It was headed: 'The DHSC's response to a call for government support from independent local pharmacies'.
The opening paragraph stated: 'On 20 October 2016 the government announced plans to modernise community pharmacies, improve service quality and relieve pressure on other parts of the NHS'. It went on to suggest that the DHSC has encouraged greater use of community pharmacy by working to integrate pharmaceutical services with the rest of the NHS, citing the 'Stay Well This Winter' campaign and the Healthy Living Pharmacy framework.
But the bottom line was that funding of £2.69 billion for 2016 to 2017, and £2.59 billion in 2017 to 2018 represents a 4% and 3.4% reduction respectively. This makes – you've guessed it – 'an important contribution to the sum of £22 billion of NHS efficiency savings set out in NHS England's Five Year Forward View'.
I look forward to seeing what efficiency savings community pharmacies will be expected to contribute in 2018-19. 
Sponsored
Sponsored education
Bust the myths around acne causes so you can recommend effective products and self-care advice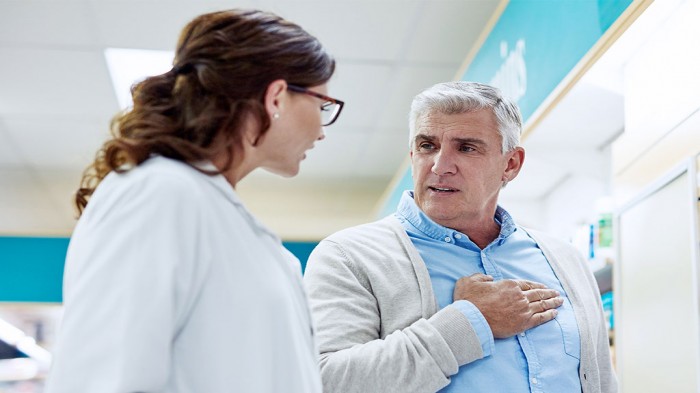 Sponsored education
Discover the key benefits of Guardium so you can recommend this PPI with confidence to help ease heartburn and acid reflux symptoms
Record my learning outcomes