Pharmacy Show
NPD galore!
A vast range of products and services will be showcased by the 400+ exhibitors over the two days providing pharmacy owners and their teams with inspiration and expertise as well exclusive Pharmacy Show offers.
Here's just a taster of what you can expect:

Alliance Pharmaceuticals will be promoting its cost saving range of Hydromol emollients for "complete emollient therapy" at stand PC76. The range is designed to effectively manage dry skin conditions such as eczema, psoriasis, and ichthyosis and includes an ointment, a cream, a bath and shower emollient, and a 10% urea cream.
"The range can offer significant cost savings to the NHS supported by national tender awards in secondary care."
Alliance will also be representing at their stand other leading brands such as Ashton & Parsons, and Lypsyl.
Comvita is a New Zealand natural health company committed to the development of innovative products, backed by ongoing investment in scientific research, it says. "We are," it adds, "the world leader in UMF Manuka (leptospermum) Honey as well as fresh-picked Olive Leaf Extract, and pioneer of the development and use of medical grade Manuka Honey.
Visit its stand (PG15A) to try its new Winter Wellness Elixirs and learn more about Comvita's extensive natural health and wellbeing range, including Drinking Vinegars, Apple Cider Vinegar, Propolis and Bee Pollen."
Valneva UK Ltd has developed the Valneva Partnership Programme to support pharmacists in providing a travel service (Stand PE74). 
The programme comprises a "suite of tools, assets and resources carefully designed to provide pharmacists with the necessary proportional support to develop a comprehensive service that aims to improve the health of UK travellers."
Valneva suggests that their programme addresses an unmet need, estimating that 50% of travellers making over 70m trips from the UK each year seek no advice before travelling, and only a minority seek information from a full travel service.
Omnicell, UK&I, will be on stand PD10 showcasing its VBM filling machine, Omnicell eMAR, its Robotic Dispensing System and other medication adherence products. It says: "Each piece of technology helps to reinforce our company's reputation as a world-leading provider of automated healthcare solutions and medication adherence packaging.
"Head over to the Pharmacy Technology Theatre at 12.45-1.15 on the Sunday where we will be holding a seminar about the importance of automation within pharmacies. Visit us on the stand and you'll also be able to take advantage of our exclusive Pharmacy Show offers."
Pharmacists visiting Stand PE12 at the show will be able to find out more about Synmed's blister packaging technology – the new SynMed Ultra and its well-established SynMed XF. The SynMed Ultra is designed to fill over 100 multi-dose blister packs per hour with hundreds of different tablet types. Based on the XF system, its "virtually error free pick-and-place technology significantly improves precision, as well as patient safety, by replacing manual pack filling". It is ideal for individual community pharmacies and for hub and spokes, the company says.
Pivotell automatic pill dispensers (PF12) are used by health and social care professionals as a component of a care package for vulnerable adults who have difficulty managing their medication, the company says. They can be either stand-alone, include alert messaging, or be linked to Telecare Lifeline response. "Any pharmacist filling Pivotell dispensers can contact us for a free filler tray set and a suggested standard operating procedure for filling," Pivotell states. From this autumn, new dispensers' plastics will contain BioCote silver antimicrobial technology. "By reducing the number of microbes on Pivotell products by up to 99.9%, BioCote makes the devices safer to use and easier to keep hygienically clean, and reduces the risk of cross contamination," the company says.
The Nature's Bounty range of vitamins and nutritional supplements in the UK market will feature on the Solgar Vitamins stand (PD25). The company says: "Aiming to attract younger adults who aspire to live a healthy lifestyle, with a focus on providing simple, effective daily wellness solutions, the product range covers all key consumer categories, from beauty and digestive wellness to energy and immune health."
A "gummies range" provides "a new convenient form" for vitamins and nutritional supplements for those who are looking for "on-the-go" solutions and an alternative to pills and capsules.
O'Keeffe's, "dedicated to hardworking skin care", is launching a range of new products at the show (Stand PF26). They are O'Keeffe's Skin Repair Body Lotion and O'Keeffe's Lip Repair Unscented and Cooling Relief lip balms. O'Keeffe's Skin Repair Body Lotion, when used daily, lasts through showering, and is guaranteed to provide relief against extremely dry, itchy skin, the company says.
The O'Keeffe's stand will also feature the company's hand and foot cream products, Working Hands and Healthy Feet.
Clinitas dry eye solutions will feature on the Altacor stand (PE10). Clinitas Soothe Multi is a preservative-free eye drop that offers "rapid and prolonged relief from dry-eye discomfort".  It contains 0.4% of a natural lubricant, sodium hyaluronate – "the highest concentration available on the market". Its formulation is dual acting, "boosting and stabilising the tear film that coats and protects the eye". It provides "rapid relief, stays in the eye for long-lasting comfort, is non-toxic and is suitable for contact lens wearers".
The pharmacy only antimalarial Maloff Protect will be featured on the Glenmark Pharmaceuticals stand (PC31).  The company recently announced that the MHRA has granted marketing authorisation for the product. Maloff Protect (atovaquone 250mg/proguanil 100mg) is an antimalarial for adults 18 years of age and over, providing equivalent protection to prescription-only medication Malarone, the company says. The launch of the product "will provide adult travellers with a more convenient, quick and easy way to access the antimalarial medication they need".
Cegedim Rx is the UK's leading supplier of Pharmacy Software, providing solutions into more pharmacies across the UK than any other PMR system provider, the company says. At this year's show, Cegedim (PF40) will, it adds, be introducing a number of exciting new products and services, including a newly updated online services provision platform, an interactive knowledge point, "Healthi checks for your Pharmacy", and their latest pharmacy integration solution, Healthi Connect. Healthi Connect is an interoperability gateway designed to enable customers to integrate their pharmacy with the wider health and social care system, allowing them to deliver more patient-centric care, the company explains.

Rokshaw Laboratories (PA12) is returning to the Pharmacy Show after a four-year absence and says it is now ready to showcase all of its significant developments since the last visit. "We built a new stateof- the-art Specials manufacturing facility based in Sunderland where we pride ourselves on delivering the highest standards of quality and service," it states. 
"Due to the positive market response and the loyalty of our customers we have recently expanded this facility. At this year's show, we are excited to launch 'The Future of Specials' with a live demonstration of our brand new dynamic Rokshaw app and online ordering system."
ReadySpex (PG58) will be exhibiting their new range – Eleglance reading glasses – at the show. They will also be showing Computer Glasses for the first time. These are reading glasses that reduce blue light by 20%. Managing director Andrew McLellan says: "We have such confidence in the sheer style and quality of these glasses we guarantee that, if you can't sell them, you can return them FREEPOST and get your money back in full."
Sponsored
Sponsored education
With research suggesting a possible link between COVID-19 and EPs, make sure you're confident discussing EPs and their treatment with customers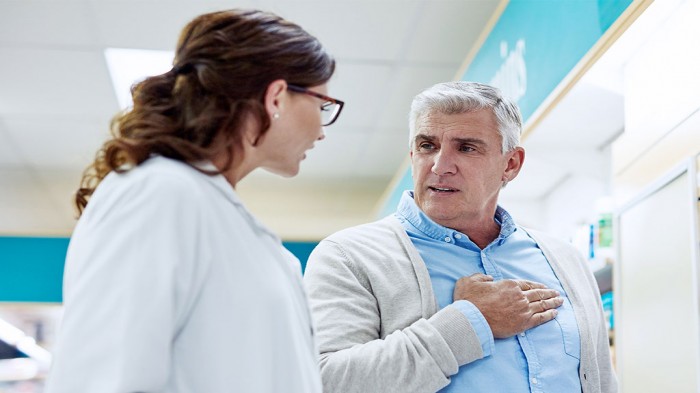 Sponsored education
Discover the key benefits of Guardium so you can recommend this PPI with confidence to help ease heartburn and acid reflux symptoms
Record my learning outcomes