Inspiration, insight and imagination
Pharmacy Awards
Inspiration, insight and imagination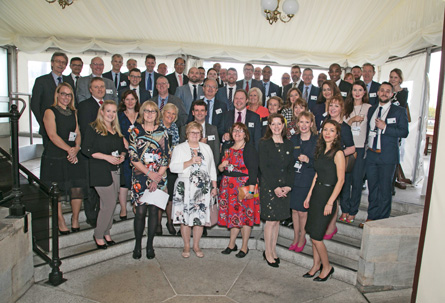 The great and the good of pharmacy gathered at the House of Commons recently for a celebratory luncheon recognising the outstanding achievements of this year's Independent Pharmacy Awards winners
When the guest list is made up of leaders from every main body in the pharmacy profession, you know it must be a very special occasion. And so it was for the recent Independent Pharmacy Awards luncheon, which was held for the first time at the House of Commons.

Attended by representatives from the Royal Pharmaceutical Society, Pharmaceutical Services Negotiating Committee, National Pharmacy Association, Community Pharmacy Wales, Community Pharmacy Scotland, NHS England and the Pharmacists' Defence Association, together with sponsor organisations and winners and their guests, the event began with an address by Sir Kevin Barron, MP, and chair of the All-Party Parliamentary Group for Pharmacy, who revealed that he was planning to meet the new Pharmacy Minister, Steve Brine.

On the agenda would be recommendations of a recently published group report. Among them were that the minor ailments service should be available throughout England, that all community pharmacists should have the opportunity to become prescribers, and that patient records should be shared to accommodate greater joint working in primary care.

New environment
Sir Kevin said that shared records were being piloted in a minority of areas. In his view, it was essential that this should happen generally.

For the future, the group would be focusing on the role of pharmacy within the devolved nations, the role of pharmacy within Sustainability and Transformation Plans, anti-microbial resistance, and the role that pharmacy could play in the management of long-term conditions.

Sir Kevin noted that community pharmacy was adjusting to a new environment following the funding cuts imposed by the government. Cuts across the board were never good and did not take account of the needs of community pharmacists nor the health needs of the people they served.

There needed to be positive discussions between community pharmacy and the government to help restore a positive working relationship.

With the NHS under significant capacity pressures and facing a difficult winter, community pharmacies were ideally placed to meet the service's most significant challenges.

Pharmacy First
The concept of Pharmacy First was given strong backing by Professor Rose Marie Parr, chief pharmaceutical officer for Scotland, when she addressed guests. Giving the keynote address, she declared: "Being accessible in the heart of our communities is the place where community pharmacy needs to be – not just for all the bad things like smoking, sexual health, needle exchange and drug misuse but for bringing advice and intelligence to the population generally on leading a longer healthier life.

"Pharmacy first – the first port of call – for people who need advice, treatment for minor ailments who need a bit of sense brought to their medication – that is where pharmacy needs to be, both in and out of hours."

Professor Parr said that the strategy in Scotland, launched in August, was aimed at achieving excellence in pharmaceutical care. It was no coincidence that, of the nine commitments of the Scottish Government in this, the first was to community pharmacy. Community pharmacies were at the heart of their communities and represented 80% of the workforce and 90% of the care given to people.

"We need strong sustainable community pharmacies to deliver care to patients within our communities. To me it is about giving citizens their right to pharmaceutical care and it is about increasing the services that pharmacy can provide.

"Pharmaceutical care for me is the thread that has run through all our government policies of the last decade or so.

"For me it translates into increasing the benefits of medicines and decreasing the harm that they might do. Who are better placed to do that than pharmacies and their teams at the heart of communities."

In Scotland, there was a commitment to the minor ailments service and possibly extending it, to bringing some sense to repeat prescribing in long-term conditions and promoting the role of pharmacy in light of the challenges of multi-morbidity, the increasing age of the population, and varied public health needs, including those arising from inequality.

Professor Parr said that she had drawn inspiration from the Irish poet Seamus Heaney, whose gravestone bore the words: "Walk on air against your better judgement". Pharmacists had many worries for the future, financial, workforce issues and so on, "but we have to walk on air for the sake of our patients." Pharmacists were putting patients first and last and were showing leadership. They were walking on air.

Professor Parr also quoted Winston Churchill: "Success is not final. Failure is not fatal. It is the courage to continue that counts."

All the award winners were showing courage, Professor Parr declared.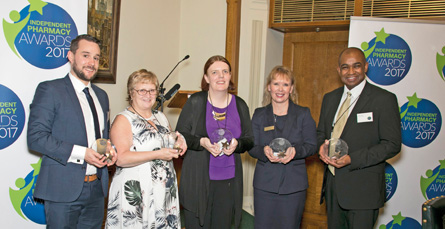 Glittering prizes 
The Independent Pharmacist of the Year award was presented to Ryan Graham of Bannside Pharmacy, Portglenone, Northern Ireland by Mandeep Mudhar, director of marketing at Numark, the category's sponsor.

Ryan Graham said the mission statement for Bannside Pharmacy was: 'For a healthier, happier community'. "We must strive to keep patients healthy and at home by adopting a holistic and patient-centred approach," he said. "Community pharmacy is the first port of call for many patients. It is no surprise that collectively it is visited by 10% of the population every day. "That's a huge potential for patient interventions. We have to make very one of them count. We must continue to treat causes, not just conditions."

One of the key strengths of community pharmacy was medicines optimisation, but he now believes that healthcare "is about so much more". Vital pharmacist duties now included giving sound advice on such issues as good nutrition, physical activity, addictions and mental health as well as signposting to other areas of an integrated healthcare system. "Every day, community pharmacists empower patients to make positive contributions to their health and wellbeing," he said. "Government must see this potential and provide the support that the profession needs."

The Pharmacy Team Learning and Development award went to Reid's Pharmacy in Edmonton, North London and was presented by the category's sponsor, Clara Carter, sales director at Accord Health. Among the team's many successes was achieving the Investors in People gold standard for the second time, an accolade only 2% of businesses achieve.

Terry Reid noted that there were many leaders present at the event. "Leadership carries great responsibility," he said. "Leaders should also be able to find or create opportunity." He was proud to receive the award on behalf of his team and told a story about a child throwing starfish into the sea, when the beach was awash with star fish. When asked what he was doing – as he couldn't be making a difference – the child, picking up one and throwing it into the sea, said: "With that one I made a difference."

Tech transformation
Ian Strachan, chairman of the NPA presented the Independent Pharmacy Innovation award, to Bernadette Brown of Cadham Pharmacy, Glenrothes for her successful investment in robotics which had transformed her pharmacy. Automation and technology were allowing her, after 30 years of feeling, for safety, that she needed to do the final check of prescriptions not to do so; and that had given her the most precious commodity of "time". Bernadette uses this time for consultations, walk-in triage and for dealing with long-term conditions. "I can do more now," she said. "I can look after people and help them stay healthier for longer. People trust me now. We have created a healthcentre environment."

The Key Staff award, went to Annie Clarke of City Pharmacy, sponsored by RB. Annie Clark said that she was fortunate to work in an outstanding independent pharmacy. Her nomination had included a project that sought to support men through their recovery from prostate cancer. This was exactly the kind of service that an independent pharmacy could take on, she believes. "Independent pharmacies are best placed to find new ways of offering the widest possible range of services to the community," she said.

Broadway Pharmacy of Fulwood in Lancashire took home the title of Pharmacy Team of the Year, sponsored by TENA. Teresa Flannery, dispensary manager, said that the development of the team at Broadway Pharmacy was the key to its success. "With the cuts it would have been easy to step back and turn away from training, but we decided against that," she said. "The future lies in developing the team and the services that they provide. Patients appreciate the services and that invigorates and inspires the team."

The final award of the day was the Sigma Special Pharmacy Award that was presented to Terry Reid by Bharat Shah, managing director of Sigma Pharmaceuticals. Terry receives two free places at Sigma's annual conference in Borneo in February 2018 courtesy of Sigma and Independent Community Pharmacist.