Vitamins, minerals and supplements
Clinical
Vitamins, minerals and supplements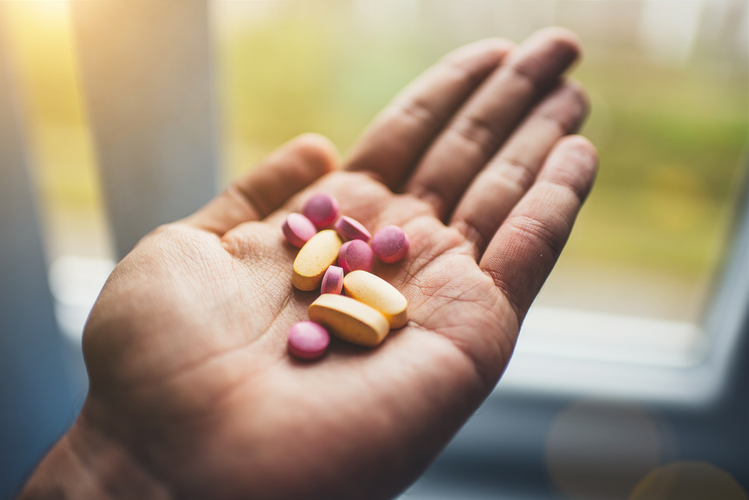 Despite the plethora of advice about healthy eating, many consumers still supplement their diet with vitamins. So how can community pharmacists add value, asks Sarah Welsh…
As a nation suffering from an obesity epidemic, a good diet has become a key focus for the healthcare sector. As a result increasing numbers of consumers have become more mindful of healthy eating issues, and some are turning to vitamins for help.
"The ongoing focus on healthy living, both among consumers and in public debate, is seeing people take a more proactive approach towards their wellbeing," explains Anita Winther, research analyst at market research company Mintel.
"The interest in health is expected to be a major driver for vitamin, minerals and supplements sales, while the ageing population should continue to drive growth in the over-50s segment."
The UK vitamin sector is booming. According to IRI the category is worth an estimated £424 million. Over the past year, six in ten (59%) Brits have taken vitamins, minerals and supplements (VMS).
Around one in three (34%) take VMS daily, with women (38%) considerably more likely than men (29%) to do so. Only a quarter (26%) of all Brits have never taken VMS.
Britain's top five single vitamin supplements are vitamin D (33%), vitamin C (27%), vitamin B complex (15%), vitamin A (12%) and vitamin E (10%), while over half (56%) of VMS users take multivitamins.
The consumer interest in VMS is great news for community pharmacies which can offer a selection of products supported with guidance in a category that can be confusing for people to shop.
"With odd names and multiple ingredients in a single product, customers don't fully understand what they are searching for and what will be of benefit to them," Cathy Crossthwaite, marketing co-ordinator at Numark, points out. "This is one of the reasons multivitamins feature heavily in the category as they are often the simplest choice, offering well rounded support without taking multiple products."
Leader of the pack
Vitamin C has long been the go-to single vitamin supplement for some time, but last year vitamin D came out in front. With classic British inclement weather and the distinct lack of sun, increasing numbers of consumers have used the sunshine vitamin to get them through the dark winter days.
According to Mintel, usage of Vitamin D has risen by 7% in the last year and today it is used by 33% of VMS users, up from 26% in 2017. The rise in Vitamin D usage saw it overtake Vitamin C in 2018 to become Britain's most popular single vitamin supplement.
While usage has ticked upwards for all age groups, it is 35-54-year-olds who are the main drivers, with usage rising from 22% in 2017 to 35% in 2018 among this group.
Mintel predicts that this sector will experience a steady rise in value sales over the next five years, with the market forecast to grow a healthy 8% to reach £477 million in 2023, making it a lucrative line of revenue for community pharmacies.
"Pharmacists can increase sales of vitamins and supplements by increasing the knowledge of their counter team through specific training on basic products," says Martyn Parkes, business mentor at Alphega Pharmacy UK.
"Pharmacists can also recommend products to sell alongside medicines. Additionally, as the NHS has removed treatments for 30 or more common conditions from prescription, the opportunity is there to sell the products instead. Have the passion to grasp the category and increase sales, margin and most importantly help the patient."
The recent popularity of plant-based diets has seen a rise in consumers turning to veganism and presents the perfect opportunity for sales of calcium and iron supplements to support this lifestyle choice.
The demand for supplements within this group is evident in the fact that calcium usage among VMS users has increased 9 per cent - up from 20 per cent in 2017 to 29 per cent in 2018, and iron up from 22 per cent to 28 per cent. The biggest increase for calcium was seen among 25-34-year-olds (up from 25 per cent to 39 per cent), while for iron, it is 35-44 year olds who have upped their intake the most (up from 22 per cent to 36 per cent).
"The trend towards meat reduction diets – including both strict vegan diets and the more lenient flexitarian approach – is likely boosting usage of iron," says Anita Winther. "With as many as half of meat eaters believing their red meat intake should be limited, it is likely that people are looking to supplements to fill the iron gap left if they are reducing the amount of red meat they eat.
"The rise in usage of calcium could also be linked to the growing focus on plant-based foods, both in terms of vegan diets and dairy avoidance. With just three in ten adults in agreement that fortified foods and drinks are a better source of vitamins and minerals than taking supplements, consumers may well be feeling the need to complement these foods with a supplement."
What to stock?
With the multitude of VMS products available, honing down to a range suitable for your customer base is important for successful sales. Numark's Cathy Crossthwaite recommends investing in a general range of vitamins for the majority of customers, then focusing on the core subcategories such as joint care, immunity and vitality, alongside more specific products suitable for the pharmacy's customer base.
When it comes to price point, it's important to offer a range of both own brand value products alongside brand leaders. For pharmacies with limited shelf space, sticking to a single leading brand with an own brand alternative is a great compromise to stocking multiple products. The category is already confusing for customers so keeping it simple will make the purchasing journey easier and improve sales.
"With competition from high street chains such as Holland & Barrett it is important that community pharmacists look at the market trends," says Amish Patel, managing director of Hodgson Pharmacy. "For example, there has been a lot of press about the importance of vitamin D for babies, so we will make sure we have plenty on offer in store."
Additionally, keeping an eye out for products that are being heavily advertised is a good way to predict consumer demand for certain products, so you can ensure they're readily available in your pharmacy.
"The vitamins category is so vast that community pharmacists need to understand what the top sub categories are in the market before deciding which to list," says Karen Tait, head of PR and media relations at Bayer. "Getting the optimal range is vital. Too much choice makes it hard to shop the fixture."
Multi-functional supplements should be the bedrock of any community pharmacy's vitamin range to compliment products aimed at specific body parts and issues.
"We offer a lot of own brand combination preparations as well as big-selling brands such as Centrum and Berocca," explains Louise Jefferies, pharmacist manager at Day Lewis in Camborne, Cornwall.
"We also offer specialist packs which target things like improving the appearance of hair and nails. These are really popular."
Cod liver oil and fish oil remain the UK's number one supplement, taken by 37% of VMS users in the last year. Britain's remaining top five supplements include calcium (29%), iron (28%), magnesium (16%) and zinc (16%), so it's essential that community pharmacies are well stocked.
"Cod liver oil and Metatone are both very popular with elderly customers, as are any products that support joint health," says Jefferies. "So we always ensure we have a plentiful supply."
Brand power
Navigating the minefield of supplements can be an arduous task for customers, which is where well-known brands come in as they help consumers translate the category more easily.
"If they've seen a product or range heavily advertised offering key benefits, the customer will search for that brand within the pharmacy," says Cathy Crossthwaite. "Even if that particular product isn't their purchase intention they may choose an own brand alternative in its place.
"For example, if a customer is searching for vitamins suitable for use during pregnancy the first brand they will search for on the fixture is Pregnacare as it's a well-advertised, well established brand which is understood by consumers."
Although pregnancy is an exciting time for most women, an overload of information can prove stressful and community pharmacists can help ease any worries with some sage advice.
"Of course, the mum-to-be will have a number of antenatal appointments during her pregnancy with a midwife or sometimes a doctor, but the first steps of a pregnancy journey often begin at the pharmacy," points out Susanne Bisinotto, senior marketing manager at Vitabiotics. "From picking up the pregnancy test, to advice on which pregnancy supplement to take, the pharmacist can offer sound advice, factual information and reassurance."
Continued consumer interest in health issues has supported the growth in the vitamins and supplements category, particularly the demographic-specific products. However, with consumers' uncertainty around the health claims made, community pharmacists need to help improve trust and understanding to grow sales.
Picture: yorkfoto (iStock)