The sun always shines on TV?
Views
The sun always shines on TV?
The media spotlight falling on pharmacy twice in the past few weeks has made for some uncomfortable viewing. There used to be a school of thought that the image of community pharmacy could be boosted if a pharmacy or pharmacist appeared regularly on radio or television – a community pharmacy dropped in next to the Rovers Return in Coronation Street, perhaps?
Well, pharmacy got its air-time in January, albeit in the documentary category, and it made pretty uncomfortable listening.
BBC's Inside Out looked at the impact of staffing levels on patient safety, with the practices of Boots the Chemist put under the spotlight. There were harrowing stories of dispensing errors that had led to the death of patients (which, incidentally, rarely seem to be reported in the pharmacy press).
There was the testimony of whistleblower Greg Lawton, lately a clinical governance pharmacist at Boots but now with the company's would-be employee representative organisation, the Pharmacists' Defence Association Union.There was Richard Bradley, Boots' pharmacy director, staunchly defending the company's position like a well-rehearsed actor. It was good to hear that Boots' recorded error rate is 0.00041% (of items dispensed, presumably, since this was not specified), although Mr Bradley's assertion that Boots has an 'open culture', and that pharmacists 'can ring him direct, confidentiality assured', did sound a little hollow.
Any pharmacist who watched the programme will have instantly identified with the programme's theme. We are all too aware of the pressure of working in a busy dispensary and the responsibilities it imposes.
Credit to the programme makers, who bent over backwards to present a balanced view, but you did feel they hadn't really nailed the story. The question I was left asking is: Does pharmacy need regulatory standards to define safe staffing levels? Boots would not reveal how it calculates staffing levels. The GPhC view is that setting the right staffing levels is best done by the people responsible for managing a pharmacy on the ground, rather than by the regulator at a distance. Joy Wingfield, a barrister and former Society chief inspector who was interviewed for the programme, said the idea that staffing levels are too difficult to set should be challenged.
The GPhC has not come out of all this particularly well. Having reviewed Mr Lawton's evidence it concluded that there was not sufficient evidence overall to suggest a risk to patient safety across the Boots organisation. Whistleblowing, even if the reasons for doing so don't stand up down the line, takes a deal of personal courage, and this somewhat brusque dismissal of what many pharmacists consider to be a problem area generated an unusually sharp response from the Royal Pharmaceutical Society.
"The GPhC is accused by some of being too passive in the enforcement of regulatory standards and of becoming too dependent on organisations defining their own approach to quality improvement," it said. "The GPhC needs to demonstrate how it will improve the support it gives pharmacists in raising public interest concerns and change the perception that nothing will change if concerns around staffing levels or other issues are raised." Hear, hear!
The second mention pharmacy got last month came in Radio 4's File on 4. It looked at a new wave of drug abuse. Criminal gangs, we were told, are tapping into new sources of drugs, and some British cities are awash with prescription medicines that are being peddled as street drugs. This sort of abuse has been going on under the radar, the programme claimed, as attention tends to focus on Class A drugs.
An MHRA intelligence report, seen by the programme, revealed 20 investigations underway across the UK involving 18 pharmacists, 11 doctors, 62 companies and 50 pharmacies. The MHRA thinks they have been involved in industrial scale diversion of benzodiazepines and anxiolytics, as well as the painkiller Tramadol.
Pharmacists are involved in 90% of the cases the MHRA is investigating, it is alleged. Five pharmacists have been arrested so far. This is pretty unsavoury stuff.
Small wonder, then, that an independent review into dependence and addiction to prescription drugs has been announced by the Department of Health and Social Care. The review is not before time. NHS Digital figures show that 48% of the adult population in England are taking at least one prescribed medication. Antidepressant prescribing has more than doubled in the past 10 years. These are pretty scary figures. Are we really that sick?
We have not heard the last of the issues raised in these stories. While these documentaries were not the fictional situations envisaged by pharmacist media loveys, there is little doubt that the plot lines would play just as well in a TV drama. So if you are still hankering for the media spotlight to shine on the profession, the moral of January's programming is: be careful what you wish for! 
Sponsored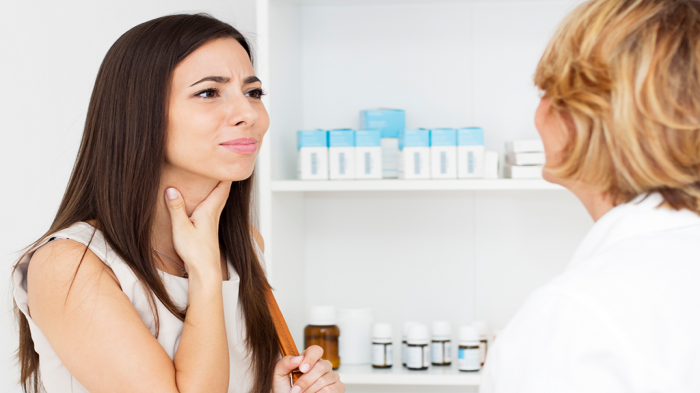 Sponsored education
This module will help you to understand and educate customers about the risks of antibiotic resistance, and recommend products to help them effectively manage their sore throat symptoms.
Sponsored education
This module highlights a new opportunity to treat heartburn and reflux in the pharmacy with Omeprazole 20mg, which is newly available for customers to purchase OTC.
Record my learning outcomes