Welcome
This module looks at the business case for considering installing automation in the dispensary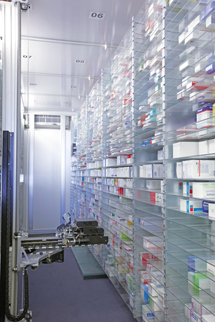 Goal
To have a better understanding of what factors can influence the choice of dispensing robot or other technology in the supply of medicine, and potential benefits that might accrue.
Objectives
After completing this module, you should be more aware of:
The sorts of questions you will be asked to consider before purchasing a dispensing robot
Benefits to the pharmacy business in dispensing volume, costs, and professional services
The implications for hub-and-spoke dispensing.
Author
Charles Gladwin is a pharmacist and freelance medical writer.
About this module
Once you have completed this module, record your learning and how you applied it in your practice using the action and evaluation record at the end, which will then be stored in your personal learning log. You must be registered on the website to do this.
Continuing professional development (CPD) is a statutory requirement for pharmacists. Completion of this module will contribute to the nine pieces of CPD that must be recorded a year, as stipulated by the GPhC.
Note: This module aims to give an overview of factors to consider when contemplating investing in automated dispensing. Content has been compiled from a range of industry sources, so figures may not have been independently verified, but are indicative and will vary depending on the pharmacy and automation employed.