Announced in February, this is the annual opportunity for independent pharmacists to congratulate the manufacturers of OTC products that have provided the most sell-through in the previous 12 months. In effect, manufacturers receive an invaluable product endorsement from independent pharmacy.
Companies submit their products and associated campaigns for inclusion in a range of health and wellbeing categories, which are then voted for by independent pharmacies from all over the UK. Only the most innovative products, eye-catching marketing and engaging training initiatives make the cut.
Winners receive special certificates and, most importantly, are able to use the logo on packaging and promotional material. A gallery of the latest successes is hosted all year round on the Pharmacy Product of the Year Awards website.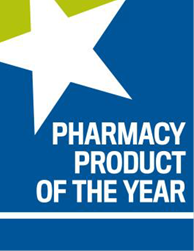 How to enter your product
1: Submit your product
The entry will include: A picture of the product entered, the legal category where appropriate and the name of the manufacturer / distributor (only having to provide this level of information avoids the need to go to medical regulations.) Cost of entry £398 per product, same product additional categories £254.
Please contact Andrea.webb@1530.com or call 0207 534 7249.

2: The products are showcased to all UK independents
All products entering a category are featured in the December issue of The Independent Community Pharmacist, and at www.independentpharmacist.co.uk

3: The vote
Independents are asked to vote for one product in each category, using a free post voting card included with the December issue, or via www.independentpharmacist.co.uk
All independent pharmacists who vote will be placed in a draw to win an Apple iPad mini

4: The winners are announced
The Winners will be announced in the February issue, in a dedicated section of the magazine, which will be highlighted on the magazine front cover. They will also be featured on the Independent Pharmacist web site for a 12 month period.
Each winning product will receive an award certificate, and the right to use the Pharmacy Product of the Year logo, at no additional cost, in advertising, promotions, and PR.
Plus, the opportunity to feature their winning product in the exclusive Pharmacy Product of the Year in-store promotion.
The categories
Allergy & Hayfever
Best Advertising Campaign: – Consumer – Health Care Professional – Social Media
Best Packaging/ Point of Sale
Bladder Weakness
Baby Care
Child Health
Cosmetics
Cough & Cold / Flu
Diagnostic / Health check
Digestive Disorders
Ear Care
Eye Care
First Aid
Foot & Leg Care
Headache & Migraine
Hair & Scalp Care
Health & Diet
Health & Wellbeing
Infant Feeding
Joint & Muscle Pain
Medicated Skincare
Men's Health
Natural Pharmacy
Nutrition & Weight Management
Older People's Health
Oral Care
Pain Relief
Pharmacy Training Initiative of the Year
Pharmacy Innovation
Prescription Only Medicine
Pregnancy Care
Product Launch of the Year
Sexual Health
Sun Care/Protection
Skincare
Sleep & Insomnia
Smoking Cessation
Sore Throat
Technology / IT (Apps, Robots, etc)
Travel Health
VMS
Women's Health