More than just a pharmacist
Pharmacy Awards
More than just a pharmacist
At the end of the day there is no business without loyal customers and they deserve a high standard of care
Sandra Cooke, winner of the 2015 Independent Pharmacist of the Year award, explains to Steve Bremer how she goes the extra mile for her patients, staff and colleagues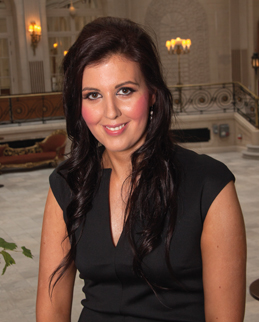 Sandra Cooke is a shining example of how meticulous research and attention to detail can pay dividends when setting up and running a pharmacy business.
Before she had even opened Whitehouse Pharmacy in Derry/Londonderry in 2010, Sandra was doing her research. Sandra went from door to door talking to prospective customers, surveyed GPs from 15 local surgeries, and contacted local politicians and the out-of-hours doctor service to find out what they all wanted from a new pharmacy.
Most people wanted an extended-hours service, so when Whitehouse Pharmacy opened, it was for for 365 days a year, 11-13 hours Monday to Saturday, and seven hours on Sundays. Because of these extensive opening hours, the pharmacy was awarded the local palliative care supply contract and has become a health and social care hub for the community.
Sandra designed the pharmacy layout herself so that she can acknowledge and engage with customers and oversee the safe supply of OTC medicines. "I ensure the staff are trained and competent so they can confidently recommend within their capabilities and know when to refer appropriately," she says.
When Sandra realised that one of her patients was partially sighted and another blind she organised Royal National Institute of Blind people training for her and her staff so that they could make the pharmacy more accessible and easier to navigate and would know when and how to offer assistance. The pharmacy team remerchandised as a result, displaying labels in a larger and brighter font, widening the aisles, de-cluttering the floor and removing products from high shelves.
Dedication
Sandra describes herself as "100 per cent dedicated" to her Whitehouse Pharmacy business, and she always puts customers' needs first. Even with its extremely long opening hours, she sometimes stays open after closing time for urgent prescriptions and she also delivers oxygen after work.
"The pharmacy is more than just a business, my role is more than just a pharmacist, we genuinely care about our customers, we go out of our way to help them on a daily basis, putting their needs before all else as we want to build lasting relationships with them, because at the end of the day there is no business without loyal customers and they deserve a high standard of care."
Sandra frequently engages with other healthcare providers and health and social care groups to build relationships. For example, in collaboration with 'Building the Community Partnership' she targeted young men's health issues via a local basketball group. Testicular cancer awareness was a key issue, so the project was called 'Check yourself before you wreck yourself'.
As part of this project, Sandra gave talks on smoking cessation, drug and alcohol misuse, sexual health (where she provided free condoms) and mental health. For her talk on testicular cancer, she collaborated with other healthcare professionals and arranged for a doctor to demonstrate how men should check themselves.
The talks were a resounding success, with high attendance and great feedback at the end of sessions. "We have now built up a rapport with a lot of the participants and they feel relaxed and comfortable coming into the pharmacy to ask for advice. This has given me a lot of job satisfaction and shown it all to be very worthwhile."
Sandra is committed to educating her pharmacy students and customers, as well as her staff. Local schoolchildren regularly come to the pharmacy to complete their work experience. All members of staff have completed a wide range of training courses provided by trade magazines, manufacturers, and symbol groups. "I try to be a good role model, help educate, encourage, support, motivate and be actively involved in training students."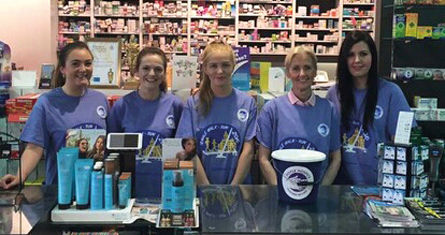 As well as being a Queen's University Belfast community pharmacy placement mentor and a preregistration pharmacist tutor, Sandra is also involved in the Education, Standards and Registration Committee of the Pharmaceutical Society of Northern Ireland. Most recently, Sandra has been appointed to the Irish Institute of Pharmacy Steering Group in Dublin as the PSNI representative.
Whitehouse Pharmacy is currently in the process of becoming accredited as a Health + Pharmacy and technician Aisling Wright is qualified as a wellbeing advisor.
Digital in Derry
To prepare for the launch of Whitehouse Pharmacy's e-commerce website, Sandra and staff attended Derry Enterprise Week to hear various experts discuss business websites. Staff completed the Visualsoft e-commerce training so they could manage the website confidently and effectively.
Patients are engaged through social media, with the pharmacy's Facebook page receiving over 4,000 likes. Whitehouse Pharmacy has used this social media platform to reach not only their customers but the wider community, through educational videos on topics such as medication wastage, No Smoking Day, coeliac disease, bowel cancer and alcohol limits guidance.
Sandra's innovations were recognised when she reached the final of a local Innovator of the Year awards. "That was for my forward thinking and desire to take risks to implement new ideas to reach the wider community and meet the highest possible standards of practice and care to achieve the best outcomes for both the patients and the pharmacy."
Smoking cessation is a priority at the pharmacy, with high quit rates achieved, and success at a local supermarket encouraging both staff and customers to quit. Most recently Whitehouse Pharmacy provided an educational talk in Groarty Primary School on No Smoking Day.
Sandra has also been involved in Derry's Drink Think Project, an alcohol awareness scheme that challenges the alcohol culture and promotes sensible drinking. The pharmacy gave customers Drink Think boxes, containing information such as recommended alcohol intake. "It was a good talking point for customers who were waiting on prescriptions and it was a great success as it gave them an opportunity to ask questions in a relaxed environment."
The pharmacy got involved with the Health and Social Care Board in March 2014 and Sandra gave talks to two local elderly groups on sharing prescription drugs and medication waste.
"We realised it's important to educate people on the dangers associated with this, including drug-drug interactions, allergic reactions, complications from incorrect use and risk of overdose, and as the elderly were highlighted as one of the high-risk groups we targeted them for our talks."
The following month, Sandra gave a talk on coeliac disease at a local hospital event. As well as explaining all about the condition and gluten-free food, there were free samples of different products for attendees to try. "The chairman of the group commented that it was a very informative and enjoyable talk, they really appreciated it and wanted to invite us back to do it again next year!"
To raise money for charity the pharmacy team has organised coffee mornings, participated in a firewalk for Age Concern, dressed up for Halloween, organised a casino night and sponsored walks for the local Foyle hospice, Concern Worldwide and Northern Ireland Cancer Fund for Children.
Down with the youth
A quiz and a colouring competition kept youngsters engaged during a talk on the importance of sun protection to a children's drama group. Healthy food tasting and visual aids helped children at a nearby primary school to appreciate Sandra's talk on healthy eating and dental health.
"The children's appreciation was apparent when they ran over to hug myself and Aisling as we were leaving. We had tried to make it a fun, interactive and educational day for everyone involved, including the teachers. At the end we gave a certificate from the tooth fairy to each child."
When the minor ailments formulary was extended, Sandra approached a local Sure Start mother and toddler group to explain which products were available and give out leaflets explaining the service. This raised awareness and improved understanding of the service, and triggered an increase in requests for advice.
Sponsored
Sponsored education
Work through a customer consultation to determine the possible cause of stinging, gritty eyes and recommend an effective treatment to help ease these symptoms.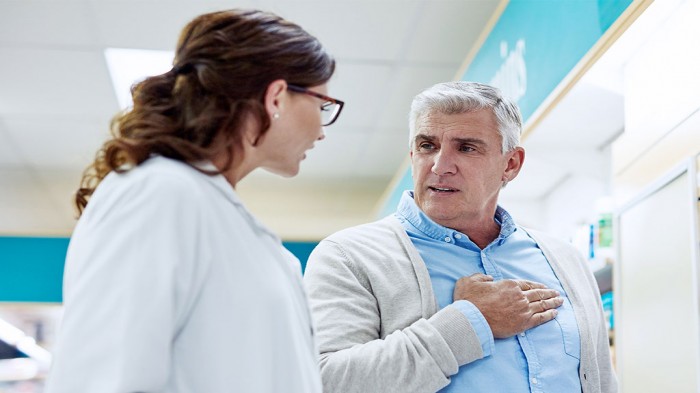 Sponsored education
Discover the key benefits of Guardium so you can recommend this PPI with confidence to help ease heartburn and acid reflux symptoms
Record my learning outcomes