Independents rising to the challenge 
Pharmacy Awards
Independents rising to the challenge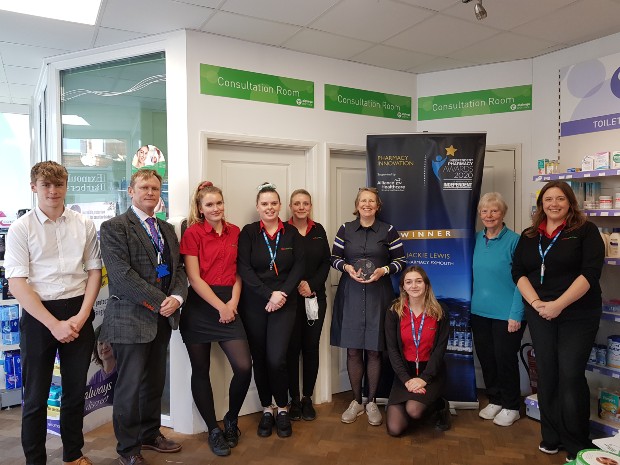 This year's Independent Pharmacy Awards have highlighted just how important independent pharmacies are to an NHS battling to stave off Covid-19, writes ICP editor Neil Trainis...



The Independent Pharmacy Awards went virtual this year to recognise the way in which independent pharmacies have dealt with an all too real health crisis.
Covid-19 has left a trail of misery in its wake but community pharmacy teams across the UK have put their lives on the line and continue to do so as the country embarks on a nationwide vaccination programme.
There were some inspiring entries for this year's event and separating them was an unenviable task for the Awards judges. Take Best Supporting LPC (or equivalent body), a new category for the Awards this year, where three excellent LPCs - Community Pharmacy West Yorkshire, Avon LPC and Suffolk LPC - made the final shortlist. All have provided great support to their contractors during the pandemic and it was almost impossible to choose between them.
Avon LPC, led by chief officer Richard Brown, was given the nod. It is a forward-thinking LPC that has been ahead of the curve, particularly in the last 12-18 months. It has run successful pilots of a number of national and local services and, before the pandemic struck, it had been making tremendous progress encouraging contractor engagement with primary care networks.
Lindsey Fairbrother, who runs Goodlife Pharmacy in Derbyshire, was crowned Independent Pharmacist of the Year. She qualified as an independent prescriber, allowing her to provide her patients with some important services, and is pressing ahead with the roll-out of Covid vaccines. It is a "24/7" operation and "the hardest thing I've ever done in my life," she says pragmatically, "but it's got to be done."
She is no glory-seeker, either. "Most pharmacists up and down the land are working as hard as I am, so (the award) is recognition for everybody," she said.
Shasha Eva Peng, a trainee pharmacy technician at Kellaway Pharmacy in Bristol, was named Key Staff Member for her dedication to her patients and determination to improve herself. She only came to the UK from China five years ago but has become an integral part of her team.
The Innovation Award went to Jackie Lewis at Lewis Pharmacy in Exmouth. The pandemic has had a terrible impact on cancer care, with operations halted because beds have been taken by Covid patients and people with cancer symptoms opting not to seek help in case they contract the virus.
Jackie designed a service for pharmacy staff to encourage referrals of patients with red flag cancer symptoms known as 'Not Normal for You?' and that was delivered in 10 pharmacies in East Devon. She also developed a series of e-learning modules for pharmacy teams which have been published on the British Oncology Pharmacy Association website.
Her work has been priceless given the effect of the pandemic on cancer. She has taken an altruistic approach to it too, insisting she is happy for someone else "to take this project and run with it" and keeping it off-patent to allow that to happen.
Sabina Yasmin and her colleagues at Harlow Pharmacy were named Pharmacy Team of the Year. They have always been there for their patients but the pandemic has brought the best out in them as they continue to support vulnerable people in their community.
Delivering Covid vaccines will be a challenge but it is not one Sabina is prepared to shirk from. Quite the opposite. "We're trying to do 3,500 vaccines a week," she said enthusiastically. She has forged strong relationships within the community and not just with GP surgeries and patients. The hairdressers next door and a local sweet shop are helping her deliver vaccines.
This year's winners received a gift voucher and a trophy. The Awards also heard from Bruce Warner, the deputy chief pharmaceutical officer for England, on community pharmacy's response to the crisis.
What is clear is that even in extreme adversity, independents have been there for their patients.
Independent Pharmacist of the Year

Lindsey Fairbrother, Good Life Pharmacy, Derbyshire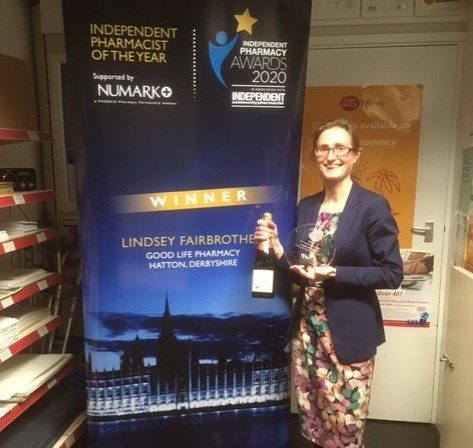 Lindsey Fairbrother, who runs Good Life Pharmacy in Derbyshire, was named Independent Pharmacist of the Year for the inspiring way she and her team have met - and continue to meet - their community's needs despite the challenges of the Covid pandemic.
Her pharmacy was already providing a range of services but has risen to new heights in the battle against the virus, ensuring patients continue to have access to health information and medicines. Lindsey also revealed she has set up a vaccination centre, which she describes as "the hardest thing I've ever done in my life".
"It's 24/7 but it's got to be done. It's something that brings the community closer to the pharmacy. I'm working with local volunteers, the local parish council, and people in the village are supporting me because I cannot do this on my own," she said.
She opened her pharmacy about 10 years ago and has not looked back since, training as an independent prescriber, launching services such as a yellow fever and travel clinic and promoting community pharmacy through her work on her local pharmaceutical committee and as a primary care network lead.
Following swingeing government funding cuts, Lindsey knew she would have to reduce her reliance on NHS income to protect her business and has opened a private prescription service using her IP qualification, growing the pharmacy's annual income impressively.
Although Covid-19 put paid to further service developments, she has continued to offer UTI and infected skin treatment services through virtual and face-to-face consultations. Her instant response to Covid-19 was not to wait for a national medicines delivery scheme but get community volunteers in place to deliver medicines to vulnerable people.
The nearest surgeries to her pharmacy, and the closest pharmacies, are in neighbouring villages so Lindsey and her team are the only providers of healthcare in their immediate area. She insisted her award was recognition for community pharmacies across the UK.
"Most pharmacists up and down the land are working as hard as I am, so it's a recognition for everybody," she said. "It's been an odd time because pharmacists are people persons and we expect to see patients and spend time with them, but with Covid that has been denied because we can't see people.
"We can talk to people over the phone but it's just not the same, so we've lost part of what is unique and what is special about us. At the same time, though, we've been holding the hand of the public because we are accessible."
Lindsey suggested the pandemic has accentuated community pharmacy's social care role. In short, she said, pharmacy teams are there to listen to any concerns people, particularly vulnerable people, want to get off their chest.
"We just reassure people who are often lonely, particularly in the pandemic, because people can't see each other or their families," she said.
"What we do is very special and although we've had to adapt and change, we've done that amazingly well. It might feel uncomfortable at times, but everyone has stepped up and I'm really proud of the whole pharmacy workforce – me and my team and all pharmacies across the land.
"We're helping each other a lot more as a profession which is great, particularly as an independent pharmacist because often you feel quite alone."

This Award was sponsored by Numark.


HIGHLY COMMENDED

Sunil Kochhar, Regent Pharmacy, Kent

Sunil has spent the last 20 years helping to improve the health and well-being of local communities through educational events, screening services and, more recently, virtual healthcare.
Last year he completed an independent prescribing qualification that allowed him to gain experience in respiratory medicine, dermatology and medical aesthetics and as a result has delivered successful well-being clinics.
He merged medicine and pharmacy services to create the Functional Pharmacy Care (FPC) concept in November 2019 after realising there was a gap in the healthcare market and under-use of skills a pharmacist can offer.
He went to launch the FPC Back to Good programme that investigates the root cause of health issues through detailed history-taking, pathology and behavioural support. Covid-19 abruptly stopped this but, determined to keep his community healthy and safe, he launched the service virtually.
Sunil also started a remote smoking cessation service that allowed him to use his skills as a prescribing pharmacist to write a patient specific direction after a virtual consultation. It proved to be an important service during the pandemic and opened the way for future PSD virtual consultations.
Regent Pharmacy is situated on the edge of Gravesend town centre and there are three surgeries nearby, each one with a pharmacy within its premises. Sunil's pharmacy doesn't rely on one surgery for all its prescription items - it attracts patients from all over the area.
His team includes a second pharmacist, a dispenser, two health champions and two weekend staff members.
Pharmacy Innovation

Jackie Lewis, Lewis Pharmacy, Exmouth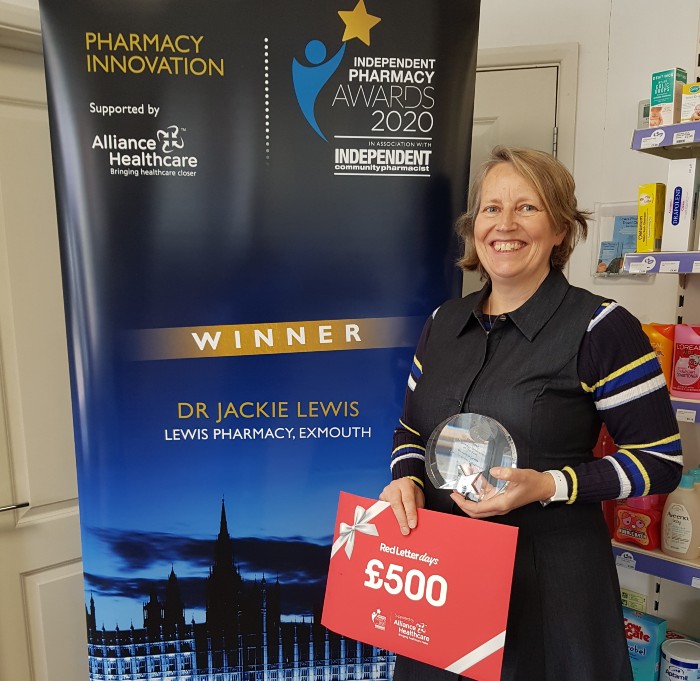 Jackie Lewis and her team won the Innovation Award for their tireless work in meeting the needs of their community and in particular the way they improved support for cancer patients.
Cancer care has suffered during the pandemic, with operations being put on hold because of the number of beds taken by Covid patients and people with cancer symptoms being reluctant to seek help for fear of getting the virus.
Jackie has built on local relationships with Cancer Research UK, Macmillan, Devon LPC and the Cancer Alliance to design and deliver a service for pharmacy teams to enable earlier cancer diagnosis.
She secured a grant from the Health Education Foundation and the National Pharmacy Association to design and evaluate a service for pharmacy staff to encourage referral of customers with red flag cancer symptoms.
The service is called 'Not Normal for You?' and has been successfully delivered from 10 East Devon pharmacies. Her pharmacy collected data from patients via questionnaires and cases of cancer were diagnosed earlier because of the service.
Pfizer awarded her a grant to develop e-learning materials for pharmacy teams that are now hosted on the British Oncology Pharmacy Association website.
"The work I've been doing on the cancer e-learning has got me through he pandemic as well. It's been something different to focus on. Cancer diagnoses are being potentially missed during the pandemic," she said.
"I'm seeing patients who clearly should be seeing their GPs and we've almost become a minor injury service ourselves. I would really like someone to take this project and run with it. We've kept it off patents and intellectual property rights so that someone could take it up if they wanted to.
"The e-learning I'm doing is for the whole community pharmacy team and it's going to be free and easily accessible and could help community pharmacies diagnose cancer early."
The South West Academic Health and Science Network were instrumental in designing the questionnaire and evaluating the results - 63 per cent of service users given a referral card went on to visit their GP.
Jackie and her husband run the pharmacy and employ a part-time pharmacist, senior dispensers, pharmacy assistants and delivery drivers. She has three consultation rooms and uses them for NHS and private services but they will be used to deliver Covid vaccines in the weeks ahead.
"The team has pulled together during the pandemic. It's a family business. We've had a summer university student, we've had a retired pharmacist dispensing and it's been a huge effort. We've set up the vaccination service, we've got connections with GPs, nurses, data enterers, all sorts," Jackie said.
"We have to do a minimum of 1,000 vaccines a week, so that is maximising our three consultation rooms and that is brilliant. We will need rota in eight staff for every clinic we run and we're pulling in people from the community for that."
She insisted she and her team were "absolutely delighted" to win the award because it had taken "many, many years to get to this stage".
The pandemic has been a difficult 11 months, but the pharmacy has pulled through. "We got really tired early on, especially at Easter, and the NHS kept asking us to open on every Bank Holiday and that was really hard. All we needed was a day off! That was probably one of the lowest points but I feel we are much more resilient. It's amazing what the human mind and body gets used to."

This Award was sponsored by Alliance Healthcare.

HIGHLY COMMENDED

Michael Maguire, Middlesbrough

When Michael worked as a pharmacist at Marton Pharmacy he helped transform the health and well-being of his community.
Arguably his biggest achievement in the past year was the launch of the community pharmacist consultation service which he created and implemented in the North East with his colleague Andre Yeung. In its first eight months, over 330,000 patients were referred by NHS 111 to community pharmacies throughout England.
He also designed, implemented and project-managed the Reducing Antibiotic Prescribing (RAP) project that showed community pharmacy and general practice can work together to address two huge challenges: antimicrobial resistance, and time and capacity in general practice.
The aim of the project was to reduce the levels of inappropriate antibiotic prescribing, and to safely channel some patients away from the GP to increase their capacity and give patients, including those genuinely needing antibiotics, a more effective pathway and better experience.
Patients with a chesty cough who phoned the practice for an appointment, and potentially antibiotics, were referred by the receptionist to the pharmacy for a three-minute C-Reactive Protein point-of-care test and a private consultation with the pharmacist. This guided the decision as to whether antibiotics were appropriate.
Patients were managed by the pharmacy or the pharmacist liaised with the GP to take appropriate action including, if necessary, issuing and dispensing an antibiotic prescription.
The RAP initiative was rolled out to four primary care networks which were keen to become larger scale test sites. Covid-19 put a stop to the project, but the results have not been lost on commissioners.


Key Staff Member

Shasha Eva Peng, Kellaway Pharmacy, Bristol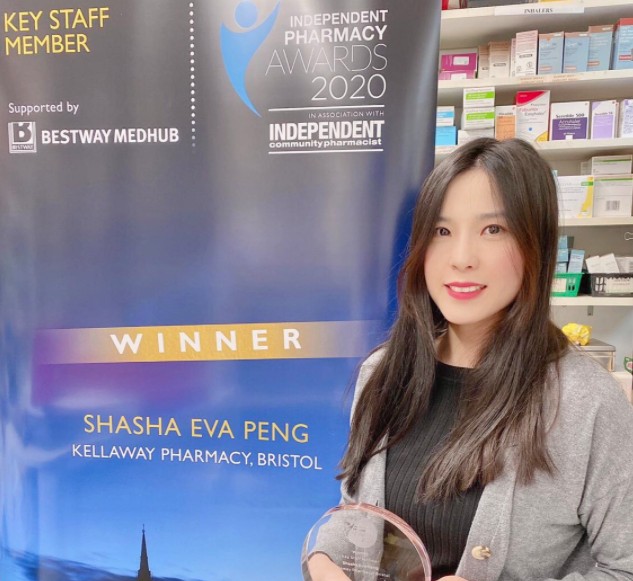 Shasha Eva Peng won the Key Staff Member Award for her inspired work at Kellaway Pharmacy.
Despite difficult times in the last 11 months because of the pandemic, Shasha, who came to the UK from China nearly five years ago, has proven she is a natural when it comes to looking after patients.
"Through the last 10 months it's been difficult. A lot of people are struggling to live a normal life and, as pharmacy staff, we encourage each other in the team. We have a positive attitude and that will impact on the patients we serve and our colleagues," she said.
"At the start of the pandemic, a lot of prescriptions were coming in each day and some of our colleagues felt overwhelmed in the beginning, but we just dealt with it calmly and we keep updating our systems."
Shasha said Kellaway Pharmacy will deliver Covid vaccines to its local community and she is eager to begin training so she can play her part.
"Things are going quite well, the vaccines are coming out and hopefully, we'll be able to help people get vaccinated. Hopefully by the summer, everything will be back to normal. I'm going to start my training to give vaccinations soon and our pharmacy will start to run a vaccination centre and we'll work seven days a week, 12 hours a day. We will need quite a lot people to join us including nurses and even doctors."
She says the award came as a surprise to her because of the high quality of others in her field who have performed superbly during the pandemic.
"I feel amazing. I didn't think I could win because, of course, all the other candidates are doing a brilliant job. I'd like to thank my team for always supporting me and creating a brilliant environment to support each other. I always try to participate and grab any opportunities in my work."
Shasha has relished getting stuck in to whatever challenge has faced her. When the opportunity to get involved in healthy living pharmacy campaigns and national schemes came up, she did not hesitate.
She assisted the Self Care Forum to develop its e-learning to improve the confidence of healthcare professionals in advising patients and their carers on managing and treating minor conditions, and helped market and run the flu vaccination services which are now a significant part of the pharmacy's income.
She also volunteered as a translator and medical assistant for healthcare professionals in the Gobi Desert where she supported a team of doctors, paramedics and physiotherapists during the Gobi Ultra Marathon.
During that event she learned about wilderness medicine and did some training to help with emergency scenarios in extreme conditions, sharing her experiences with colleagues and encouraging them to discover new areas of medicine.
In response to confusion and panic caused by coronavirus, especially among some of her Chinese patients, Shasha and her team helped translate an information leaflet that provided advice into Mandarin.
She completed a dispensing assistant's course before starting to train as a pharmacy technician course. She has undertaken mental health awareness training, and became a trained incontinence advisor, providing insight into how the condition affects the health, dignity and confidence of patients. She regularly attends LPC training evenings, often when no other colleagues can make it.

This Award was sponsored by Bestway Medhub.

HIGHLY COMMENDED

Alice Middleditch, Clare Pharmacy, Suffolk

Alice has worked in Clare Pharmacy for about four years and has achieved a great deal in that time.
The pharmacy is community-oriented and a large proportion of its customers are elderly. Alice has been keen to take up as much training as she can – completing her healthy living pharmacy level one and smoking cessation courses.
Last year she won a Willies Award for her work in the local community in encouraging under-24s to use contraception and practice safe sex, and she has led the medicines counter team in making sure young people get advice and support when they need it. This has encouraged them to come to the pharmacy to discuss other concerns they might have.
There are countless examples of Alice's excellent patient care but perhaps one stands out. One hot summer's day, a female patient tripped up on the curb and cut her head open down the road from the pharmacy.
The pharmacist took a first aid box outside and bandaged the patient's head to try and stem the bleeding. Alice took a chair for her to sit on as the pavement was extremely hot, an umbrella to shield the patient from the sun and a glass of water as she was not coping well in the heat.
An ambulance was called and Alice stayed with the patient until it arrived an hour later. A week later, the patient came into the pharmacy and thanked all the staff.

Pharmacy Team of the Year

Harlow Town Pharmacy, Harlow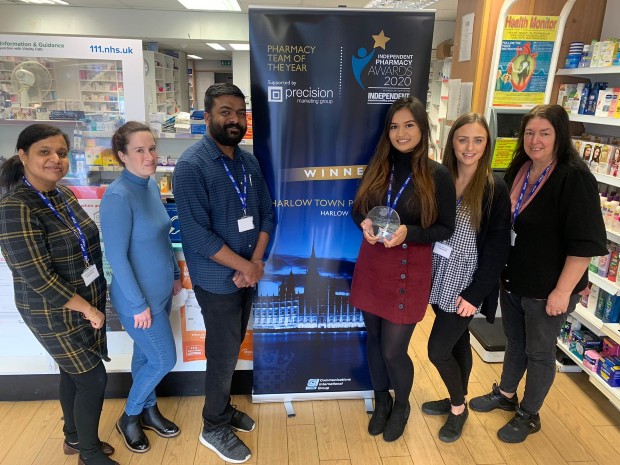 Sabina Yasmin and her Pharmacy Team of the Year have been hugely important to their local community and even more so during the pandemic.
The pharmacy has four part-time staff, one full-time dispenser and a pharmacist. Three staff members are NVQ2 qualified dispensers, one has been taking a dispensing course and the other is a clinical pharmacist from Kerala who has been enrolled on the counter and dispensing course and is looking to join the UK Pharmaceutical Register.
When Sabina took over as manager a couple of years ago stock had not been properly managed, patient relations were not great and morale was low. The pharmacy switched its dispensary system to Proscript and started a repeat dispensing service, allowing them to gain the trust of patients.
During the pandemic, the number of prescription items dispensed and counter sales shot through the roof, but Sabina lost one staff member for one week and one for three months to the virus. However, the other team members worked well together to ensure they kept up with demand, making sure dosette boxes were made up and methadone scripts for their 100 patients were changed as required.
"It's been a hard time. We have been pushed and our capabilities have been tested but we all came together. We lost a couple of team members because they were ill and some people had sick notes, but we made sure patient safety was a top priority," Sabina said.
"I remember one day a staff member had to go off to deal with an emergency. I was by myself for a few minutes and I thought: 'Is this what the next few months are going to be like?' But it was okay. I called one of my other members who came in. We just did the best that we could.
"One of my staff was in a car accident and was off for a month but the way everyone came together, I didn't even have to ask them to do extra hours. It showed how well we know each other and want to support each other."
Sabina's team has risen to the challenge. They took the number of patients receiving dosette boxes up from around 20 to 130 patients - most of which are delivered for free - and boosted prescription items to around 8,000 a month. The pharmacy also invested in a Methameasure and has 100 methadone/buprenorphine patients who come in regularly.
The relationships with local GP practices improved during the immensely difficult period last year. The pharmacy advised the surgeries about patients who would benefit from shielding and those who needed dosette boxes and other assistance.
"One of my methadone patients is over 60. He has leukaemia and was shielding. We had to get his script changed to monthly," Sabina said. "It was hard because he was shielding and someone else had to come collect the medication on his behalf. We were able to liaise with the drug and alcohol team to sort this out for him."
This winter the pharmacy has been working closely with surgeries to provide flu vaccinations. Other services offered include blood pressure monitoring, appliance dispensing, prescription delivery, smoking cessation, EHC, supervised consumption, inhaler technique and healthy living advice.
Sabina's pharmacy has also applied to be a vaccination centre and the hairdresser next door has agreed to offer space and staff to help. She also said her neighbour's sweet shop had volunteered to assist.
"We're trying to do 3,500 vaccines a week and my little pharmacy would not have been able to cope with that kind of volume," she said.

This Award was sponsored by Precision Marketing Group.


HIGHLY COMMENDED

Good Life Pharmacy, Derbyshire

The team, run by Lindsey Fairbrother, has always worked hard as a group but Covid-19 has provided additional challenges and brought them closer together.
The team includes two pharmacists, two dispensers, counter assistants, apprentice dispensers and pharmacy students.
They have grown the number of services they offer and individually taken on more responsibility. The dispenser has been training as a checking technician and the pharmacy has taken on an additional apprentice.
The two locums are trained in ENT examination and vaccination, and over the past 18 months the team has developed a private prescription service through Lindsey's independent prescriber qualification.
Private income has grown significantly, counter sales have increased, gross profit has risen and the pharmacy was the top flu vaccination provider in the area. The team has been brilliant during the pandemic too.
Shielded patients have received deliveries of medicines from staff, often when they have been making their way home. Other deliveries have been organised into schedules that local helpers deliver for the pharmacy.
The pharmacy supports the training of staff and hosts pre-registration pharmacists. The team also provides a travel vaccination service, ENT consultations, UTI and skin treatment, EHC, supervised consumption, flu vaccinations, wheelchair hire, veterinary medicines, private weight loss and stop smoking services.
The pharmacy also applied to be part of a pilot to research the use of virtual consultations in pharmacy through NHS England.
Best Supporting LPC (or equivalent body)

Avon Local Pharmaceutical Committee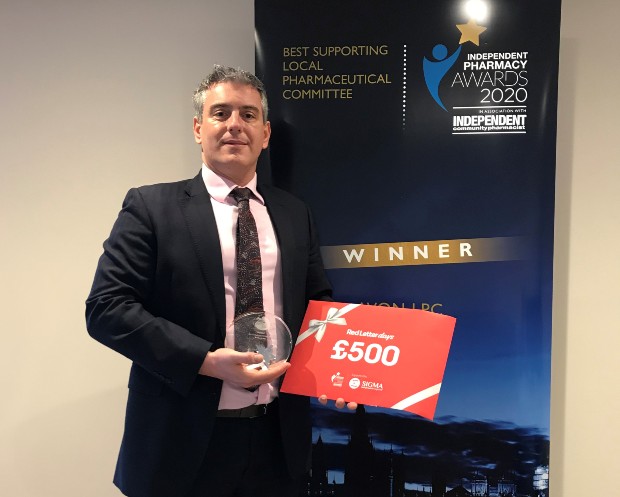 Avon LPC, led by its chief officer Richard Brown, beat off some tough competition to win the Best LPC Award.
The LPC has caught the attention of commissioners time and again, leading to successful pilots of a number of national and local services. The LPC has been busy this year negotiating additional services for its pharmacies including the national pilot for the GP referral Community Pharmacist Consultation Service and CCG-wide roll-out of a suite of patient group directives.
The LPC has supported contractors in meeting their contractual obligations, with over 99 per cent of pharmacies in its area meeting the gateway for pharmacy quality scheme points, allowing pharmacies in Avon to have a share of approximately £1.34 million.
The LPC has also forged strong relationships with NHS England and Improvement, CCGs, local authorities, acute trusts and academic health science networks, and that has led to the commissioning of new services and the continuation of existing public health and local enhanced services.
The Covid pandemic has brought new challenges. Richard describes 2020 as "a rollercoaster ride" but is proud of what his contractors have achieved. "They have been immensely busy looking after the patients they serve in their local communities and they have also been a key part of primary care," he said.
"We've finally got that recognition across the whole system of the important role community pharmacy plays. My hope for my contractors is it will continue to materialise in some of the central policies from NHSE, meaning that pharmacies are recognised in the future for the really important work they deliver."
The LPC has worked closely with teams dealing with palliative care, and vulnerable groups such as those on opioid substation therapy, to ensure they are supported during Covid-19. It is currently working with acute trusts to support discharged patients, using PharmOutcomes to provide summary information which allows pharmacies to follow them up. Three acute trusts discharge over 300 patients a month through the service and, by working with the transfer of care around medicines pilot, about 96 per cent of patients are being followed up.
Richard also revealed pharmacies in Avon are getting involved in the Covid vaccine roll-out, and hopes all of his contractors are called upon at some point.
"We have a small number of sites. Longer term, my hope is that community pharmacy starts to play a bigger role in the overall Covid vaccination delivery plan. To do that, we'll need the central NHS England team to support us to deliver a smaller number of vaccinations from a much larger number of pharmacies," he said.
"If each of our pharmacies could deliver 100 Covid vaccinations a week, it would present NHS England with a huge opportunity just across Avon. It would be the same across all other LPCs - that's well over a million vaccinations community pharmacy could be delivering each week."
However, he admitted funding problems has created uncertainty for many of his contractors.
"I still have contractors in Avon who are uncertain if they are going to have to pay back their part of the £370 million that was loaned. I have contractors who are uncertain how they'll close their books at the end of the financial year," he said.
"I have contractors who are uncertain if they'll continue to be viable. They have delivered everything they've been asked to deliver and it's only reasonable that they get that certainty."

This Award was sponsored by Sigma Pharmaceuticals.


HIGHLY COMMENDED

Community Pharmacy West Yorkshire
The pandemic has brought the best out in Community Pharmacy West Yorkshire which has supported its contractors during an immensely difficult time.
It created a Covid-19 email address that is monitored seven days a week to provide timely responses contractors' inquiries. Telephone queries are answered and the CPWY website is updated as new Covid-related information becomes available, and it has held weekly webinars to keep contractors up-to-date.
CPWY has worked with local volunteers, and council and fire services to develop medicine delivery services. It collaborated with NHS England and Improvement to ensure pharmacy teams were able to access local Covid testing sites and supplies of PPE, and secured funding to retain supervised consumption services despite reduced activity.
CPWY has also helped establish transfer of care around medicines processes across all hospital and both mental health trusts in West Yorkshire, and has community pharmacy primary care network leads in place for all 52 PCNs in West Yorkshire. The leads are supported by on-going leadership training and a communication tool to facilitate collaboration across pharmacies within the same PCN.
Good communication with contractors is crucial and it developed what it describes as "an engagement community" known as CPWY Connect that allows pharmacy teams to talk to the CPWY team and other pharmacy teams about issues affecting community pharmacy.
CPWY also supports a learning academy that provides pharmacy teams with regular training events on clinical elements of pharmacy practice. It has worked with commissioners and other stakeholders to transform public health needs and commissioners' challenges into new, profitable services that improve patient outcomes.




Sponsored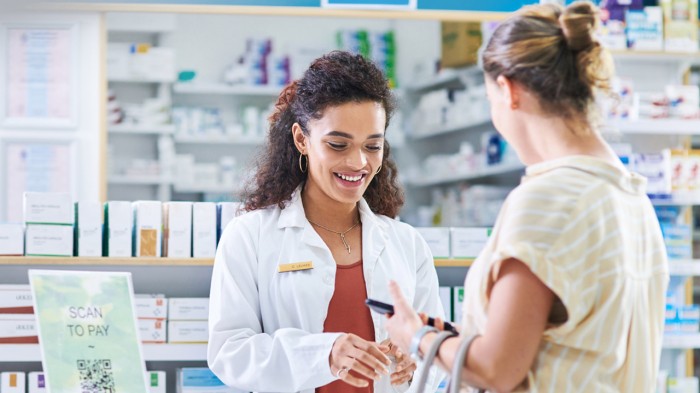 Sponsored education
Refresh your knowledge on managing mild to moderate pain and understand when a combination product can help.
Sponsored education
With research suggesting a possible link between COVID-19 and EPs, make sure you're confident discussing EPs and their treatment with customers
Record my learning outcomes