So what does your LPC do?
Award Winners Interviews
So what does your LPC do?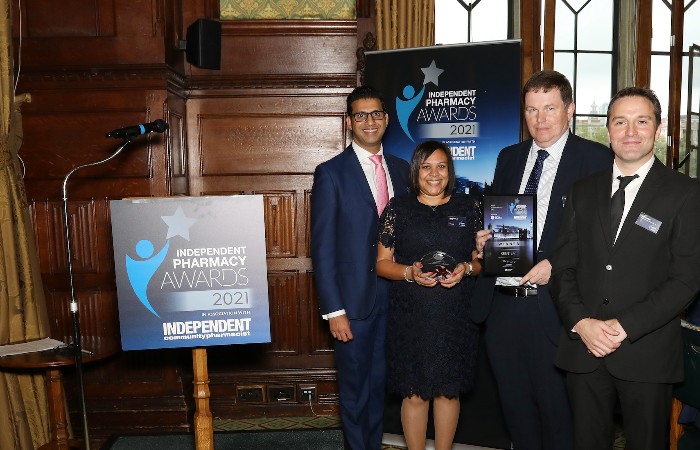 Shilpa Shah collected the Best Supporting LPC Award at the 2021 Independent Pharmacy Awards for her team's achievements at Kent LPC. She spoke to Sasa Jankovic…
Kent LPC represents 326 community pharmacies across Kent and Medway, covering some of the country's most affluent and most severely deprived areas.
During her time there from September 2019 to December 2021, chief executive Shilpa Shah spearheaded a range of services and initiatives for the benefit of patients, other primary care providers, and pharmacy contractors.
One such project involved working with primary care training hubs to run training programmes for pre-reg pharmacists, pharmacists and pharmacy technicians.
"We knew people were leaving the profession because of a lack of development opportunities," says Shilpa. "Traditionally the training hubs tend to focus on GPs and pharmacy is rarely included, so I reached out to these and encouraged them to invite pharmacy staff to their sessions.
"The NHS South East Leadership Academy gave us funding for 20 people to access four leadership training sessions from Pharmacy Complete, which was really useful for independents in particular as they don't often have access to the same development opportunities as staff in multiples do," adds Shilpa.
"We also got three one-hour sessions from NHS coaches for delegates to look at what they wanted from their career following the leadership training. The training hubs also funded Pharmacy Complete leadership training for our PCN leads, which gave them the skills and confidence to talk to clinical directors in PCNs."
Pandemic experiences
During Covid pandemic, the LPC worked hard to make sure patient access continued for the most health-critical services.
One key service the LPC supported effectively during the pandemic was smoking cessation, where it worked with One You Smoke-free and Kent County Council to reduce waiting lists.
One You advisers had behavioural conversations with clients and referred anyone who could use Champix to a pharmacist independent prescriber who, after a remote consultation with the patient, sent a patient specific direction to a pharmacy of the patient's choice.
"Over a 10-month period the LPC arranged for eight IPs to help over 1,000 patients," says Shilpa, "which has been great for shining a spotlight on what IPs can do, but also for changing public – and system – perception that a pharmacy is not just a shop."
Covid vaccinations
A group of Kent independent prescribers also became the first community pharmacists to be involved with the Covid-19 vaccination programme back in December 2020.
Kent LPC mobilised five IPs to work with East Kent Hospitals University NHS Foundation Trust to write patient specific directions (PSDs) for the PfizerBioNTech Covid-19 vaccine, allowing the first batches to be administered by hospital staff, until a patient group direction (PGD) was subsequently put in place.
"Being involved right from the start meant that as soon as the pharmacy vaccination programme was proposed we were able to help contractors with any queries they had about putting in their expressions of interest," says Shilpa.
"I also set up a Telegram group, which got those already involved talking to those who wanted to apply. They all really supported and helped each other, which proved a great way of taking down the sector barriers."
CPCS engagement
Another workstream for the LPC was embedding the Discharge Medicines Service and the GP Community Pharmacist Consultation Service into the daily workflow of community pharmacies.
The LPC worked closely with the CCG to secure £138,600 of funding to use community pharmacists to train surgery staff. At the time this was the largest tranche of funding secured by any LPC to support the roll-out of the GP CPCS.
"There was a GP workforce problem in Kent as doctors are retiring and they were finding it difficult to find replacements," says Shilpa, "so we worked closely with the CCG to demonstrate how general practice can reduce workload by using GP CPCS to refer patients into pharmacy and offer appointments to people who really need them."
Hearing that the CCG was preparing to give significant funding to GP surgeries to get CPCS up and running, Shilpa asked for some of the money for the LPC to send pharmacists to train surgery teams on how to refer into pharmacy.
"The rest went to the GPs to pay for their IT systems to integrate into EMIS and PharmOutcomes," she explains. "Buy by using local pharmacists who work in Kent pharmacies to train surgery staff we were able to build relationships with the surgeries, as well as ensuring consistency in GP CPCS referral methods across the county – which at the time helped Kent be a top performing area for GP CPCS referrals."
Changing views
Despite these successes, Shilpa says the main challenge for any LPC remains changing the way others see and value community pharmacy.
"Many still think of us as a shop that provides medication rather than as a professional healthcare establishment," she says, "although I do believe Covid has helped shift that perception. I was invited to meetings I hadn't been asked to before Covid once the system realised how integral we were to patient care. It's a shame it took a pandemic to do that, but I did feel that Kent LPC was fully embedded in the system after March 2020."
Hopes for the future
Shilpa lives in East London and has now left Kent LPC to take up the reins at North East London LPC, but her hopes for the future of pharmacy remain the same.
"I would like to see community pharmacy to be seen as part of the NHS system because 90 per cent of our business is NHS business", she says. "When we are talking about patient care, pharmacy must have a seat at the table. For me it's all about sharing and collaborating to show the DH and NHSE where community pharmacy is doing well, as well as where it needs help and funding so we can do more."