Championing capacity in community pharmacy
Award Winners Interviews
Championing capacity in community pharmacy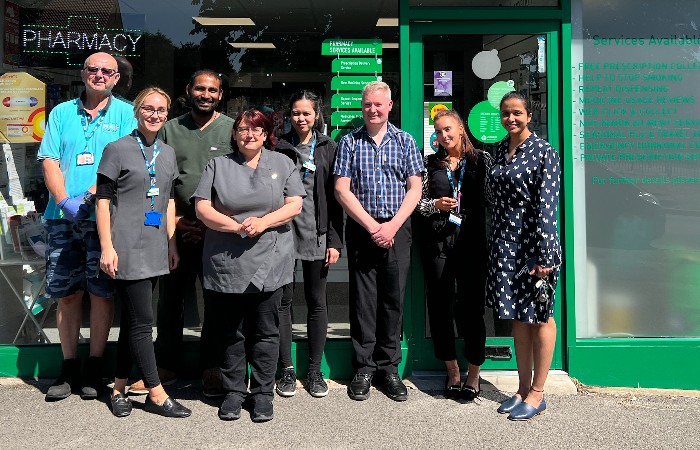 West Hill Pharmacy won the Team of the Year Award at this year's Independent Pharmacy Awards. Sasa Jankovic spoke to pharmacist and co-owner Jaya Authunuri…
"We are firm believers that patients in my pharmacy should receive the same specialist care as they get in the GP surgery," says Jaya Authunuri, the pharmacist and co-owner – with his wife Aswini – of West Hill Pharmacy in Bessingby Gate, Bridlington. The pharmacy won the Team Award at this year's Independent Pharmacy Awards.
Alongside accuracy checking technicians (ACTs) Nina Holgate and Gemma Gordon, dispensers Cherize Micabalo and Faye Jordan, and delivery driver Gary Wainwright, Jaya and Aswini have worked to make West Hill Pharmacy a vital resource for their local community.
Dispensing around 9,000 NHS items a month and providing services such as compliance aids for vulnerable patients and health checks for eligible patients aged 40-75, West Hill Pharmacy also offers the NHS hypertension screening service as well as a minor ailment service, needle exchange for drug misusers, emergency hormonal contraception supply, a palliative care service, and vital flu and Covid vaccinations.
Jaya started his pharmacy career working in general practice as a pharmacy student but says: "I chose not to work completely in general practice as I feel you can do more and give more in community pharmacy."
Nonetheless, he maintains a concurrent role as a practice director at the Practice 3 GP Surgery in Bridlington, adding: "The pressures in general practice are very apparent, but as much as we want to improve capacity there, it is also clear that there is readily available capacity right here in pharmacy."
Pandemic challenges
That capacity was stretched during the pandemic, but Jaya and the team met the challenge head on.
"The team all upskilled to be able to give flu and Covid vaccinations, which meant we could provide additional workforce capacity to deliver the town's vaccination programme," says Jaya, "It also helped integrate the pharmacy with the surgery teams within the area. For example, blood pressure checks were continued throughout the pandemic to those patients that needed them, and they were actively signposted to the pharmacy by the GP care navigation team."
Jaya also leads on various clinical projects for his PCN, such as a chronic illnesses project on medicines optimisation in COPD patients. He has also worked closely with Astra Zeneca and Novo Nordisk to set up a tier three weight management multidisciplinary team (MDT) model in Bridlington.
Cardiology service
The pandemic was also the catalyst for Jaya to create another MDT in cardiology. This enables him to access cardiologist approval to start patients on the lifesaving cardiology drug Entrestro (indicated in adult patients for treatment of symptomatic chronic heart failure with reduced ejection fraction), and he is now the cardiometabolic lead for Bridlington Primary Care Network.
"This came about because during the pandemic my best friend was diagnosed with heart failure but came out of hospital with very little onward care," explains Jaya.
"I took it on myself to look into what could be done better for him and reached out to his consultant to see what the plan could be. We started him on Entrestro and now he has progressed from having severe heart failure to mild heart failure.
"With every hospital admission costing an average of £12,000 I realised that this gave me a huge opportunity to care for more patients like this since only primary care can optimise their medicines."
Jaya now regularly attends cardiology MDT meetings for the local area to discuss complex heart failure patients and manage them within the community and, as a result, his service has reduced outpatient appointment times and brought patients greater access to specialist medicines.
"GPs generally think pharmacies just do dispensing but this has shown them that we do other things," says Jaya. "Because I was able to show I could stay in the pharmacy and work remotely for the GPs, they could see the value in what I was offering and said: 'Yes, we are short of space in our surgeries, so we don't mind where you work, as long as patients get care'."
As a result, Jaya says his vision for Bridlington is that, ultimately, surgeries will subcontract their clinical work to community pharmacies. "For example, if I look after all the cardiovascular interventions and another independent takes care of COPD and asthma, and another the substance misuse patients, this will create capacity in primary care," he says.
"There are not many GPs in this part of the world so let's use them wisely and take the clinical workload off them where we can."
Community connections
It's not just fellow clinicians who Jaya and his team are keen to enfold into a community team.
"We had a patient whose husband had complex dementia issues, but they had no family support," he explains. "She came into the pharmacy one evening as her husband had locked her out. I also discovered he was pushing her, and she had fallen and was bruised. It seemed to me that the best scenario was to put him in a home, but she wanted to keep him with her as she'd promised never to put him in a home.
"I had a careful 'best interest' discussion with her, and she changed her mind, and he went into home, where he eventually died. For me, my community is my larger family, so since they had no family, I did all the funeral arrangements and felt privileged to be able to provide that care for them."
With wearing so many 'hats', Jaya says people often ask him how he fits everything in. "I tell them work is like a game of cricket to me," he says.
"Every job that comes in I want to hit it like a four or a six and I'll never get tired of that."