Independents celebrated at Independent Pharmacy Awards
News
Independents celebrated at Independent Pharmacy Awards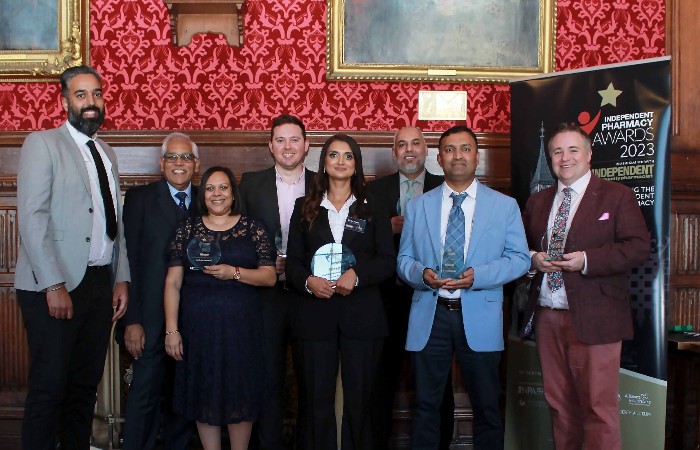 By Neil Trainis
The ways independent pharmacy teams improve the health and wellbeing of their local communities across the UK was celebrated at the 2023 Independent Pharmacy Awards at the House of Commons on Friday.
The awards, which brought together luminaries from community pharmacy, politics and the wider NHS, saw winners in six keenly contested categories presented with winners' accolades.
Shadeia Younis, the owner of Brierfield Late Night Pharmacy in Lancashire, was named Independent Pharmacist of the Year. She boasts an impressive career spanning over 23 years, marked by remarkable achievements across diverse pharmacy settings.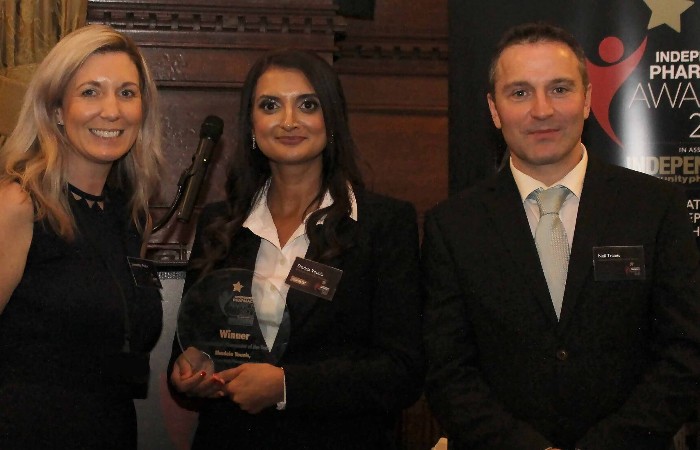 (Shadeia Younis (centre) is pictured with Samantha Taylor, Sales Controller Key Accounts at Numark, sponsors of the Independent Pharmacist of the Year award. On the right is Neil Trainis, the editor of Independent Community Pharmacist.)
Shadeia's journey includes owning and managing five pharmacies, operating a pharmacist recruitment agency, wholesaling pharmaceuticals, investing in property and trading stocks.
Under her leadership, Brierfield Late Night Pharmacy has become a beacon of outstanding community care. Beyond dispensing prescriptions, the pharmacy offers an array of services, including blood pressure checking, diabetes screening, blister pack assembly and home delivery.
Mike Hewitson, who runs Beaminster Pharmacy in Dorset, beat off some tough competition to win the Independent Prescriber of the Year award. It was his innovative approach to dermatology that set him apart.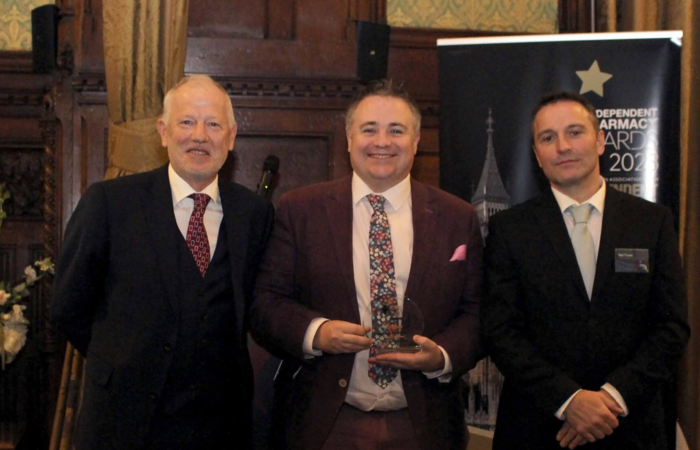 (Mike Hewitson with Matthew Caldwell-Nichols, the chairman of Precison on the left.)
Recognising the need for timely care for skin complaints during the pandemic, Hewitson introduced a dermatology first aid service. It has meant patients no longer had to wait for GP appointments and could seek immediate assistance from him.
With his prescribing qualification, he efficiently treats a wide range of skin issues, preventing complications and improving patients' quality of life. Although the dermatology service is currently private, it has seen impressive success, with over 110 patients benefitting from acute and ongoing skin condition management.
Chapel Pharmacy in Farnborough, led by its manager James Martin, won the Pharmacy Innovation award. One innovation stood out for the judges.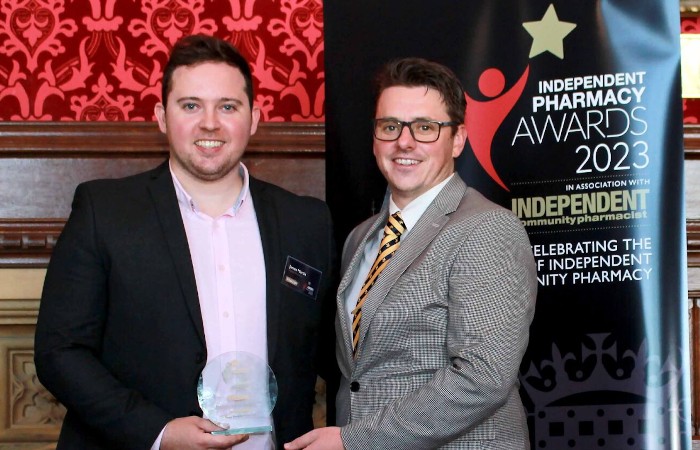 (James Martin with Sam Unsworth (right), Head of Communications at Alliance Healthcare, the sponsors of the Pharmacy Innovation award.)
Before Covid, Chapel Pharmacy caught the attention of Dr. de Verteuil, a GP with special interests in valve disease, who recognised their innovative approach and successful track record with previous pilots.
Consequently, the pharmacy was chosen to undertake a pioneering pilot aimed at early detection and diagnosis of valve disease within the local community. Employing a digital stethoscope coupled with AI technology, eMurmur, Martin and his team performed auscultations on eligible patients in the pharmacy.
The goal was to identify pathological murmurs and refer patients for further evaluation, aiding timely diagnosis and intervention. Targeting patients over 75 years old or those suffering from atrial fibrillation, type two diabetes mellitus, ischaemic heart disease, hypertension, or symptomatic for valve disease, the pharmacy identified eligible individuals during the clinical check stage.
Arunoday Lekkala, who works at Victoria Pharmacy in Golders Green Road in London, was named Pharmacy Technician of the Year.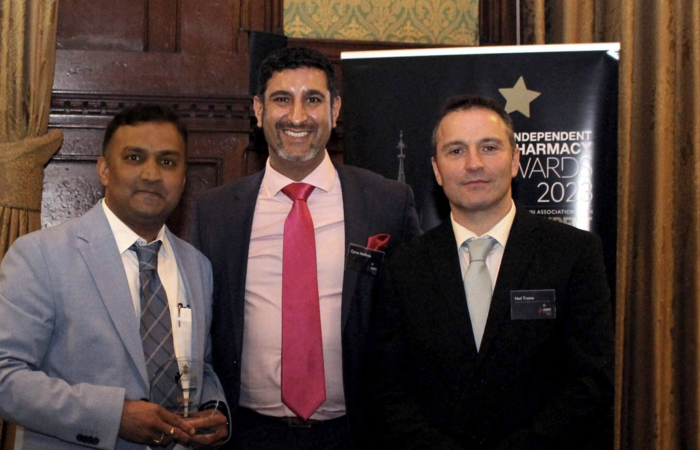 (Arunoday Lekkala with Cyrus Hodivala (middle) on behalf of Meditech, the sponsors of the Pharmacy Technician of the Year award.)
He has had an impressive journey in the pharmaceutical world, starting as a Saturday staff member responsible for stocking shelves at LloydsPharmacy. His dedication and passion for the field led him to pursue and successfully complete NVQ Level-3 courses, ultimately becoming an accredited checking technician and a pharmacy technician.
He further enhanced his skills by completing an assessor course, enabling him to assess students pursuing NVQ Level-2 and Level-3 pharmacy services. Lekkala's leadership role at Victoria pharmacy since 2020 has not only contributed to its growth but has also fostered goodwill within the predominantly Jewish and Iranian community it serves. He has actively engaged with the local community, participated in local blood donation drives, joined the local Jewish community WhatsApp group and consistently promoted the pharmacy's services.
Shelley's Pharmacy in Birmingham, led by Muhammad Zaheer who has a team of dedicated staff, were Pharmacy Team of the Year after going beyond the typical pharmacy, offering a range of important services to its patients.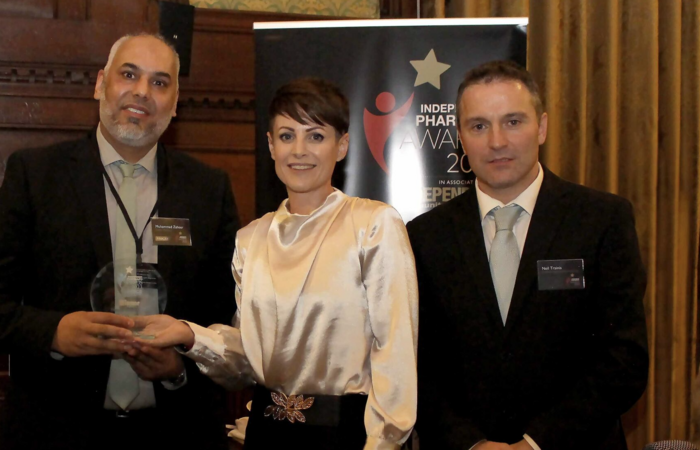 (Muhammad Zaheer from Shelley's Pharmacy in Birmingham (left), with Sandra Carnall, the Sales & Marketing Director of Cegedim Healthcare Solutions, sponsors of the Pharmacy Team of the Year award.)
Muhammad's services include the New Medicine Service, Community Pharmacy Extended Care Service, Covid vaccinations, flu vaccinations, smoking cessation and the Discharge Medicines Service.
North-East London Local Pharmaceutical Committee were named Best Supporting Local Representative Group. NEL LPC represents 375 pharmacy contractors across seven boroughs, including City and Hackney, Tower Hamlets, Newham, Waltham Forest, Redbridge, Barking & Dagenham, and Havering.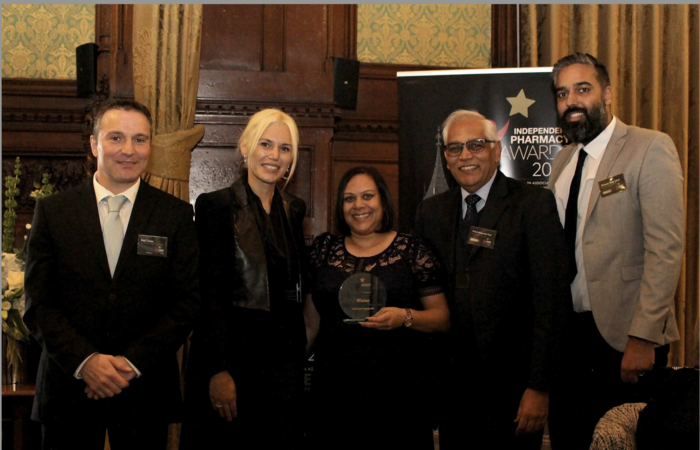 (The team at North-East London LPC with its CEO Shilpa Shah (centre) and Dr Maria Mantzourani (to her left), UK Head of Medical & Scientific Engagement at PMI Science, sponsors of the Best Supporting Representative Group award.)
Leading NEL LPC is its CEO Shilpa Shah, who is supported by a team including a full-time pharmacy services manager and an office manager. The LPC secured funding from the local Integrated Care Board to expand its workforce and help it hire a second full-time pharmacy services manager on a fixed-term contract. That appointment helped the LPC to support pharmacies to get involved in critical national services such as the GP Community Pharmacist Consultation Service and hypertension management service.
The Awards also heard from Northern Ireland's chief pharmaceutical officer Cathy Harrison who spoke about the challenges facing pharmacy teams in the country, and National Pharmacy Association chairman Nick Kaye, who expressed his hope that independents can flourish in the years ahead.
A Lifetime Achievement Award was also awarded to David Taylor for his work as professor of pharmaceutical and public health policy at the University College London's School of Pharmacy. The award was accepted on his behalf by Hemant Patel, clinical lead, health inequalities and population health management, at Mid and South Essex Integrated Care System.