Pharmacy's rent will rise by 220 per cent, says director
News
Pharmacy's rent will rise by 220 per cent, says director
By Neil Trainis

The director of a regional pharmacy chain has claimed one of its branches co-located in a health centre is facing a rent increase of 220 per cent as concerns mount over the future of pharmacies facing huge rises.
Gurdev Channa, the director of Laville Limited which trades as Britannia Pharmacy, a business based in East London and Essex that has 31 branches, told Independent Community Pharmacist the pharmacy's rent will increase from £25,038 a year to £80,000.
The pharmacy is co-located with a GP practice inside Loxford Polyclinic in Ilford. It is a member of the Association of Independent Multiple Pharmacies, which is campaigning on the issue of rent increases.
Mr Channa said landlord NHS Property Services (NHSPS), which manages NHS properties in England, is using outdated guidance to work out rents that does not take into account the financial impact of the electronic prescription service, which he said had reduced the number of patients coming into co-located pharmacies and was "substantially affecting" their income.
Mr Channa said his pharmacy's current rent is charged on a per-square-meter basis and the NHSPS was basing the new rent on guidance that was issued by the Royal Institute of Chartered Surveyors in 2010 when EPS "was in its infancy."
He warned new guidance was needed "to safeguard the provision of pharmacy services in the local communities".
"It is unfair that co-located pharmacy owners should be subjected to such huge rental uplifts which will make their pharmacies unviable. This matter needs addressing in the very near future," he told ICP.
"The freeholders of health centre properties are failing to take into account the financial impact of EPS on co-located pharmacies and are still insisting on having the pharmacies rental valuations based on the guidance that is no longer relevant.
"It is not only our company but many others are finding that the rental values demanded by the freeholders are extremely unfavourable."
Mr Channa said his company had put "detailed representations" to NHSPS's surveyor but was ignored. "We are now at a total loss as to what to do," he said.
When asked if it would step in and help co-located pharmacies like Mr Channa's avoid huge rent rises, the NHSPS said it was "willing to work with their pharmacy customers to ensure communities are able to access pharmacy services and that value for the NHS continues to be obtained and protected."
Martin Steele, the chief executive of the NHSPS, said: "We will engage with individual pharmacy operators to explore options and assist with lease terms where there are potential financial difficulties."
Calling for a change in the way pharmacies' rents are valued, Mr Channa said: "This matter needs addressing in the very near future. We have also approached other various industry organisations for their help in lobbying for a change."
The National Pharmacy Association recently said some of its members were facing large rent increases from health centre landlords, including NHSPS.
Sponsored
Sponsored education
Safely recommend the most effective laxative for every customer with constipation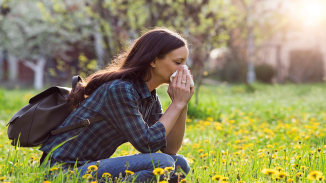 Sponsored education
This module will improve your hay fever knowledge, helping you to understand its impact on sufferers and recommend the right products to ease symptoms
Record my learning outcomes