Interviews
Interview: Mike Hewitson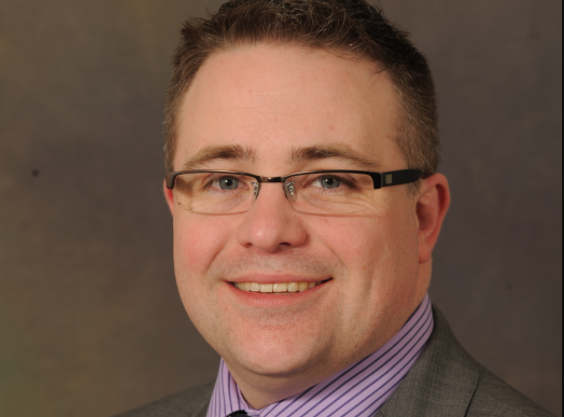 Local politics is just as dysfunctional as pharmacy politics, says Mike Hewitson. The former National Pharmacy Association board member and Liberal Democrat councillor talks to Neil Trainis…
Local politics has given Mike Hewitson an escapism-of-sorts from the daily grind of life as a community pharmacist.
He is remembered by many in his profession as the man who stuck by his principles after quitting as a National Pharmacy Association (NPA) board member because its chairman was the director of a wholesaler.
To the locals of south Somerset, he is the Liberal Democrat councillor for Hamdon having secured election last year. He sees parallels across the two roles given both involve helping people but he gives the sense that his election was something of a release.
"Being in a different field is quite refreshing for a change. There's lots going on with local government, lots of change which seems to be constant everywhere," he says, struggling to make himself heard in the heart of Waterloo Station amid the throng of commuters.
"I'm enjoying that challenge and enjoying the community work as well, trying to get some more facilities for local communities, improve public services, things like that."
Working six days a week as a pharmacist - three in Beaminster Pharmacy and three in Sherborne Pharmacy - he insists his work as a councillor is "mainly in the evenings" with "only one or two daytime meetings in the month." He ponders his reasons for running for election.
"Paddy Ashdown (the late former Liberal Democrat leader) was a good friend of mine, we ran the last general election campaign together in Yeovil. He was talking to me at the time but I was unable to do anything because of NPA commitments and some people were making a bit of mischief over my political work so I decided step back."
Mischief-makers within the NPA? "Yes, sadly. Paddy was a great help. It was one of the last things he did before he went to hospital was insist on having his picture taken with me for the campaign. He was a good friend."
Holy Grail
It could be said that Mike is combining health with social care in his pharmacist-councillor role. Politicians have for years claimed that marrying the two is the Holy Grail. He lets out a chuckle.
"It's nonsense that. You put a chronically underfunded health service together with a chronically underfunded social service, it doesn't make a miraculously integrated service. It just makes one underfunded service.
"I think that's a bit of a cop-out answer. The real answer is to try and put more money into both services as well as reforming them at the same time. There are urgent needs to make services more modern. Pharmacies are no exception.
"We pharmacies are going through a modernisation programme and that's constant across politics and healthcare at the moment. (As councillors) we deal with housing, we deal with some of the repercussions of the make-up of society these days.
"There are lots of similarities between being in a pharmacy and talking to people with long-term conditions and being on a doorstep and talking to people with long-term conditions who are suffering because of parking, housing, benefits. It's got lots of similarities."
He playfully says he won't make "any grand promises about Brexit but I can promise to try and do something about the bins" but is soon sombrely suggesting that local politics is "just as dysfunctional at times" as pharmacy politics.
"You get the characters and personalities and the egos that drive particular behaviours and activities and you think 'that's not how I would behave or how I would act.' But you do get people who are involved in both for the wrong reasons.
"And you get some great people who will work their arses off to do the right thing without any notion of credit or self-aggrandising."
Struggles sourcing medicines
He concedes it is easier being a councillor than a pharmacist, largely because "there's a lot of rubbish in pharmacy at the moment, particularly with the supply chain and huge amounts of work with the new contract."
Pharmacists' struggles sourcing medicines especially irks him. He says wholesalers "have lost sight of who their customers are."
"The nature of the supply chain is probably the biggest bugbear of most pharmacists these days. Wholesalers are a law unto themselves.
"For example, my wholesaler, their depot collapsed a few weeks ago and they missed something like eight out of 12 deliveries to us in a week but never bothered to tell us.
"And you think 'if you'd told me, I would've gone and got it from a different wholesaler but you didn't tell me, you chose not to tell me. You've got the technology to communicate with me, you've got the people to communicate with me but you chose not to.'
"It didn't fill us with much confidence in the run-up to the planned Brexit date of (October) 31. You've got a major depot like that falling over and they couldn't even communicate with us that they were in any way fit to help us through potentially the biggest transition in the supply chain for decades."
Mike reveals the wholesaler was AAH who subsequently told Independent Community Pharmacist they held an investigation into the incident which occurred in August, got the warehouse back up and running within a few days, posted an alert on their website and ordering portal and apologised to him personally over the phone.
"I think the contempt with which wholesalers treat their customers is absolutely appalling. It was one of the things I was hoping to do more work on at the NPA before I left because I could see immediately that there was a huge inequity between the pharmacy customer on the ground and these enormous organisations."
Mike says he has "had huge difficulty obtaining medicines" from some wholesalers and suggests "we've seen all sorts of dubious behaviours from wholesale channels."
"Wholesalers for example," he continues, "use high-pressure sales tactics. (They will say) 'this is going out of stock, this price is going up, we've only got a few thousand left.' They are constantly trying to drive increased volume there and increased prices.
"That's my experience in pharmacy. You get wholesalers on the phone saying 'X is going short, Y is going to go up in price or it's going to be out of stock for three months' or 'there's API (active pharmaceutical ingredient) issues.'
"They use these high-pressure sales tactics to pressurise you into buying. There's definitely been an increased presence of that in the industry that hasn't been there before."
He says he "probably has conversations about the medicines supply chain and the fragility of it once or twice a week" with his patients.
"Sometimes people will ask me 'is it as bad as people are saying' or 'I've got a medicine I really cannot run out of, what's your advice?'
I've never hidden the fact (I'm a councillor) and I'll always volunteer it in conversations. It's quite weird being at both ends of the trust spectrum.
"Pharmacists are really well trusted and respected, politicians are not at all trusted or respected. I get to be both at the same time which means that depending on which hat you're wearing, people either believe nothing you say or everything you say.
"Every day you're battling shortages or you're being told (by patients) that they've tried this pharmacy or that pharmacy and they can't get hold of something. Or you get phone calls asking if you've got X, Y and Z and can you help them."
Manufacturers' quotas, he suggests, are no longer part of the problem.
"About five years ago, it was definitely about branded medicines and quotas were a large part of that problem. Nowadays, it's very much about generics and quotas are not part of that problem.
"The issues now seem to be quite transient, whether they are active pharmaceutical ingredient issues, packaging, a ship stuck in a port somewhere and you don't know what the problem is.
"I spent about three hours one day trying to track down some Epilim and I was bounced back between the manufacturer and wholesaler, the manufacturer again, back to the branch, back to the manufacturer. You can't get anywhere sometimes to get a straight answer out of people.
"If people said 'look, we haven't got any, it's coming in on Wednesday next week,' you can deal with that. People go 'well, we're supposed to have a delivery today but we're not sure if it's turned up, we'll have to wait to see if we booked it in.' And then it takes five phone calls to work out that it's not there.
"You've got three actors in the supply chain, the manufacturers, the wholesalers and the pharmacies. The pharmacies are saying 'it's not us,' the manufacturers are saying it's not them. There's only one group in the middle."
Blame
It sounds like Mike thinks wholesalers are to blame for shortages.
"I believe shortages are definitely exacerbated by the actions of some wholesalers. For example, we've heard of anecdotal stories of wholesalers not releasing stock until the price gets to a certain level and then suddenly, it becomes available.
"I've seen wholesalers charge 85 pence a pack for Ondansetron one day and then the next day it was 85 quid. There is no way the stock has changed overnight to that level. It's just that they've used the opportunity to increase the prices.
"I find it really appalling when, particularly the mainline wholesalers, jack the prices up like that."
Does this price hiking occur frequently? "Yes. Maybe not to that extent. That was quite an extreme example. But there are definitely regular occurrences where things will mysteriously disappear from stock, then miraculously re-appear when the price concession is granted or when the price gets to a certain level. That becomes really frustrating as a pharmacist."
He is asked which wholesalers are behind this.
"I'm not going to name names. There are lots of wholesalers at it. I'm going to say anyone is particularly better or worse than any other in that respect.
"Pharmacists, if you talk to them, will tell you they have little or no faith in the transparency or fairness of the supply chain right now. I've also got reports of colleagues who have told me that the local branch of a multiple can get drug X up the road but they can't get it from the same wholesaler.
"There are lots of these stories. It's very difficult to put your finger on the exact issue. It's very difficult to prove. There is massive power in those organisations."
Healthcare Distribution Association response
According to recent data, HDA wholesalers distribute around 75 per cent of generics dispensed in the UK. The HDA will pass on any specific written complaints regarding a HDA member company that Mr Hewitson would like to share in confidence. As a trade association, the HDA cannot and does not comment on commercial relationships.
Martin Sawer, executive director, Healthcare Distribution Association.
Failure of regulation
Mike blames "a failure of regulation" and says the government should "be stepping in now to regulate the profits of the wholesalers."
"The way the category M system is set is it's based on a factory gate price, so the price it comes out of the manufacturers plus an uplift which the DH calculates our margin (and) a little bit for the wholesalers.
"The trouble is the little bit for the wholesalers has become a bit more for the wholesalers and that eats into our purchase profit that we're supposed to be able to make from medicines. So to me, that's why the sums don't keep adding up.
"It would be much better off moving the margins survey in pharmacy from the pharmacies to the wholesalers because you can much better track what's going on there.
"The government has got the powers under the Health Service Medical Supplies (Costs) Act to gather a load of information (and) the power to set prices if they want to and they are not setting them.
"I think politicians have been very reluctant to intervene in this sector. My personal opinion is they've been very reluctant to upset the wholesalers in the run-up to Brexit because they've made some very clear commitments about maintaining continuity of supply of medicines to the public and they see the wholesalers as the key avenue for getting those medicines to the public."
He says the UK should follow the example of France where pharmaceutical wholesalers "have got a public service obligation which means they've got a duty to supply to me in a timely manner."
And should the Healthcare Distribution Association (HDA) be doing more to keep its members in check?
"When I hear Martin (Sawer, the executive director of the HDA), talk about these sorts of issues, he always blames small wholesalers. He'll tell you that shortages are the result of small wholesalers buying up all the stock.
"Well, the sad reality for Martin is that his members control 99 per cent of the volume and 99 per cent of the value of the pharmaceutical wholesale sector, so to me, those numbers don't add up, they're not credible.
"It's a bit of pointing the finger at somebody else and going 'what about them then?' It's a distraction technique. I personally don't buy it and when I see it happen, I get quite cross.
"When I hear the excuse that it's small wholesalers that are causing the supply shortages, I find that very, very difficult to believe."
Mike says his reputation as a pharmacist is on the line whenever he can't supply a medicine to a patient.
"I don't get paid and my reputation suffers as a result of that. Boots has got the benefit of its huge marketing budget, huge brand loyalty. We as an independent don't.
"We live in a global supply chain, so I'm not saying it's 100 per cent the wholesalers because there are genuine manufacturing problems sometimes, but there are also just as many 'spurious' shortages where people are none the wiser as to why they have occurred."
Primary care networks
Other considerations occupy Mike's thoughts. He says it is "still early days" to say if pharmacies across Somerset are making inroads with primary care networks – "we're trying to engage. We'll see what sort of response we get. The proof will be in the pudding," is his muted response - but he fears some local pharmaceutical committees (LPCs) are not equipped to play an effective role.
"Some LPCs are really good and some are not. There's a big spectrum and they don't probably have enough professional resource within them, they operate at the wrong scale, there should be less of them and contractors like me are paying into those every month.
"A few years back, the function of LPCs was to respond to contractors' applications, negotiate local services and do some training and support.
"Now, there are very few contract applications because of the pharmaceutical needs assessment, there are very few applications going in these days.
"There are very few local services being commissioned. In our area, the local authority won't negotiate with the LPC."
Why won't the local authority negotiate with the LPC?
"They won't deal with collective bargaining. Effectively, the local authority sets a price and you take it or leave it. We're lucky because we've got quite a few good public health services in our area and our LPC is very good at the development and support work.
"When you look at it, from those three core functions from a few years back, you're really lucky with one now and I question whether they are providing good value for money for contractors.
"This won't be a popular view but I'd much rather we gave a lot more money and resource to PSNC to do the job it needs to do properly because PSNC does operate on a bit of a shoestring in terms of resource.
"I'd rather they had the money to deal with all the stuff they've got to get on with, service development activity, the economic modelling around the contract, trying to work out what good looks like in terms of that future role. I'd much rather they had the resource."
RPS warned in 2015 about GP pharmacy model
Mike insists the Royal Pharmaceutical Society "has got quite carried away with the pharmacists in general practice model" and recounts a meeting he had in 2015 with then English Pharmacy Board chair Sandra Gidley and Howard Duff who was the director for England.
"I warned them about the risk of things like service decommissioning. Decommissioning of MURs was one thing I pointed out which is now coming to pass because of that alternative platform within general practice.
"I'm sure there are lots of general practice pharmacists that do a good job but they are never going to be at the scale that they need to be to make a difference.
There's 11,500 community pharmacies up and down the country and to the best of my knowledge, there are maybe a thousand GP practice pharmacies, a lot less.
"You see them with all sorts of training and opportunities thrown their way and you think that if a fraction of that money and goodwill was thrown at community pharmacies, there's so much more we could do with it.
"I've worked in a GP practice and I know it's important work but I can make a much bigger impact in my pharmacy talking to patients. It's about long-term relationships.
"I've been in my pharmacy at Beaminster for 11 years. I've known people for that entire time. They trust me, they know me, they can come in and talk to me any time they want to.
"And yet if they go in an speak to the general practice pharmacist who's materialised, they will see that person for 10 minutes if they are booking an appointment every other month.
"They might see them for an hour a year. That's no way to build a relationship."
Sponsored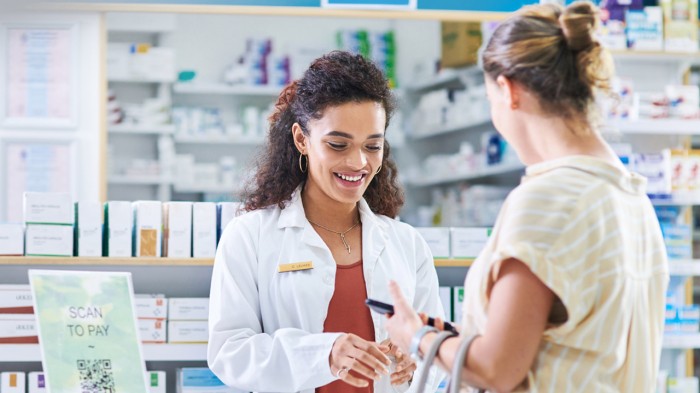 Sponsored education
Refresh your knowledge on managing mild to moderate pain and understand when a combination product can help.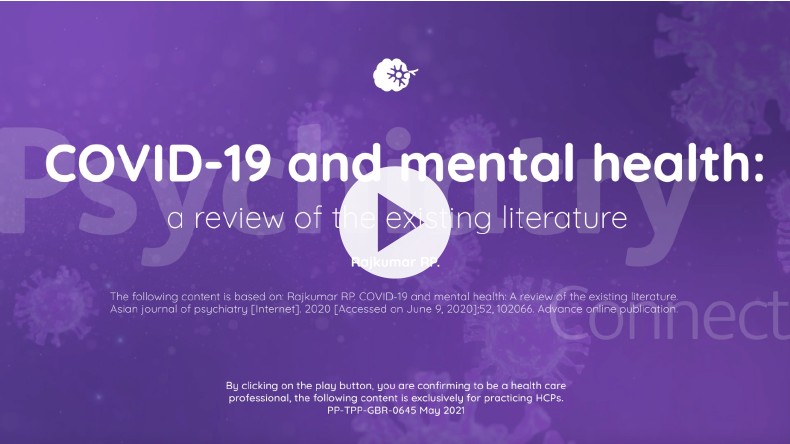 Sponsored education
Viatris has created this short video based on a publication reviewing global research into the potential impact of the Covid-19 pandemic on mental health. It identifies six areas where psychiatrists can play a role in supporting people's mental health through these difficult times.
Record my learning outcomes