Award Winners Interviews
Leader of the pack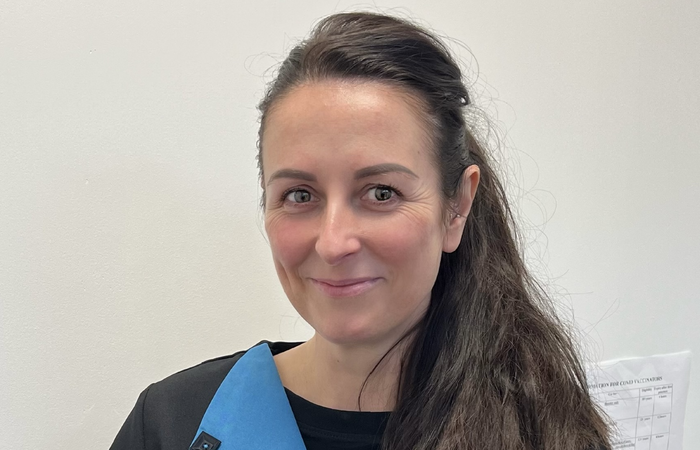 Embracing her role as team leader at Bedminster Pharmacy in Bristol sees Beata Mularska taking just as much interest in supporting her colleagues as her patients. By Saša Janković…
"We try our best to do as much as we can to help our patients, and the whole team has a part to play," says Beata Mularska, the team leader and accuracy checking technician at Bedminster Pharmacy in Bristol, and last year's winner of the Pharmacy Technician of the Year Award at the Independent Pharmacy Awards.
After starting as a dispenser 10 years ago Beata's expanded ACT role helps the pharmacy provide extensive NHS and private services including vaccinations. Always forward-thinking, she completed her mental health first aid training and vaccination training in July 2020.
She was one of the first people in the country to deliver Covid vaccines in January 2021 – a skill that then enabled her to offer flu jabs to Bedminster's customers as well.
Beata also helps facilitate the training of local GP staff and doctors so they understand the role of pharmacy, including training reception staff about CPCS referrals, and explaining what the service is to patients so they are aware of it for future use.
Problem solving
"My favourite part of the job is helping customers, especially the elderly, and I like to think that I'm working with people to solve problems together," says Beata. "For example, as I deal with dosette boxes I get a lot of queries about patients' medicines after they have been discharged from hospital, and I work with everyone involved to sort things out."
She also supports the team to develop innovative ideas and communicate their health messages in a multilingual and inclusive way. "I completed university in Poland, and it was multilingual there so I speak Polish, English, French and Italian," says Beata.
"I'm now learning Spanish as we have a Spanish community here in Bristol – as well as people from Italy and Poland – which enables me to offer even more help to our customers, especially with things like filling in vaccination forms."
No stranger to the power of good PR, Beata regularly takes part in media events to promote community pharmacy, including video blogs about cancer symptom awareness and radio interviews discussing the work of community pharmacies in raising health awareness in the general population.
"Our aim is to make sure that people understand how they can make the most of the sources of health information and support that are available to them," says Beata, "and smoking cessation is a good example of this. There's a Wilko shop next door so we organised a stand in there and promotion outside in the street about smoking cessation and the best ways to quit.
"This helped us reach an even wider range of people about how they can get support from the pharmacy or their GP surgery, as well as how to find information on the NHS website or phone apps if they don't have time to come to the pharmacy to talk to us.
"I was involved in a smoking cessation clinic but Bristol stopped the service a few years back. If patients come here to buy smoking cessation products I still get to advise them how best to move forward with their quit attempts."
Peer support
Inside the pharmacy Beata has developed a series of wellbeing initiatives to help her team create a culture of openness and peer-to-peer support. "Every year we have new pre-regs and I'm trying to guide them and help them find themselves in this environment", she says.
"They get thrown from university into the pharmacy so I want to help them to deal with all the real-world scenarios, queries and pressures that they might not have experienced yet."
Bedminster's superintendent pharmacist, Ade Williams, says that what is impressive about Beata is "her ability to reach groups of people who have been failed by health systems – an example of which is the Covid vaccination programme which she helped move into the pharmacy and, in the process, addressed health inequalities".
"Hypertension case-finding is another area where she has excelled," says Ade, "and she has taught colleagues how to avoid missing people who are normally left out of view."
"I run the hypertension service with my pre-reg colleague and it is going really well for us," says Beata. "We've already caught a few people who were in need of the ambulatory monitor, which can be a potentially life-saving intervention that pharmacy can make."
Thanks to Beata's efforts, the pharmacy has a good relationship with its NHS acute trust, providing travel clinic services, supporting medicines management and directing patients to out-of-hours services.
"This is really useful if we cannot help patients, if they need a prescription for controlled drugs, or they run out of medicines," says Beata "We can refer them to call 111 to issue the prescription, or send them to walk-in centres or the local hospitals."
Bedminster Pharmacy is also leading on a National Institute for Health and Care Research continence service and Beata is working across professional boundaries to ensure the pharmacy's offer is understood.
Future plans
With so much varied experience under her belt it's no wonder that Beata says her ambition is to become a pharmacist, but the Bedminster team will be relieved to hear that this might not be imminent.
"I'd love to do it but it takes so much time to study," says Beata. "I thought if I was a technician I could upgrade my knowledge a few days a week but the system is not set up to work that way.
"In the meantime there is a lot more clinical stuff I'm willing to learn, and I'm really interested in being able to give customers dietary advice on how to lose weight and eat more healthily. I must say a big thanks to Ade for encouraging me in my career, and I'm looking forward to seeing what the team can all achieve together next."