Oral anticoagulants benefit new AF patients
Clinical
Oral anticoagulants benefit new AF patients
Oral anticoagulants reduce the risk of stroke and death among patients with newly diagnosed atrial fibrillation (AF) in everyday practice, according to a study based in 185 GP practices across the UK.
The study enrolled 3,574 adults aged, on average, 74.5 years with a new AF diagnosis. Of these, 65.8 per cent received anticoagulants. Vitamin K antagonists accounted for 70.6 per cent of anticoagulants prescribed. The remaining 29.4 per cent received a direct acting oral anticoagulant.
A further 20.8 per cent received antiplatelets only, while 13.4 per cent received neither antiplatelets nor anticoagulants.
At the two-year follow-up, the incidence rates of all-cause mortality, non-haemorrhagic stroke or systemic embolism and major bleeding were 4.15, 1.45 and 1.21 per 100 person-years respectively.
Compared with controls who did not receive anticoagulants and adjusting for confounders, those who used anticoagulation were 30 per cent less likely to die from any cause and 61 per cent less likely to experience a non-haemorrhagic stroke or systemic embolism.
"Our data support a benefit of anticoagulation in reducing stroke and death, without an increased risk of a major bleed among patients with new onset AF," the authors conclude.
"Anticoagulation of the group of patients at high risk of stroke not receiving anticoagulation may further improve outcomes."
(British Journal of General Practice DOI: 10.3399/BJGP.2021.0548)
Sponsored
Sponsored education
This module highlights a new opportunity to treat heartburn and reflux in the pharmacy with Omeprazole 20mg, which is newly available for customers to purchase OTC.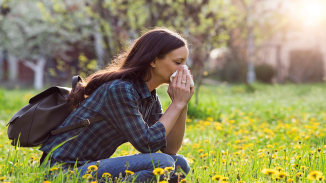 Sponsored education
This module will improve your hay fever knowledge, helping you to understand its impact on sufferers and recommend the right products to ease symptoms
Record my learning outcomes